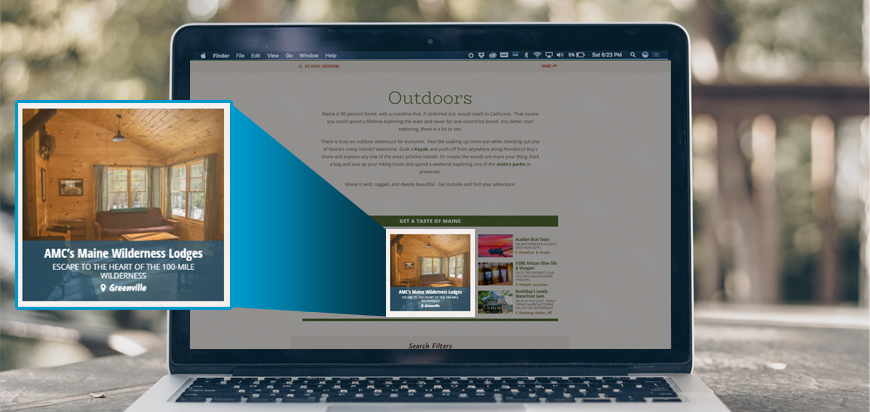 Say you are charged with marketing and advertising a club founded in 1876 that spans the mountains, forests, waters, and trails of America's Northeast and Mid-Atlantic regions. How do you use your considerable marketing budget wisely?
Of course you have paid search on Google and all of the popular social mediums: Facebook, Instagram, Twitter and Snapchat. Add in some Gmail and podcast advertising plus radio ads for some more reach. And for Toni Tiemann, Digital Marketing Associate for Appalachian Mountain Club, you include additional exposure through destination marketing organizations.
"As far as direct buys for display ads, the program on MaineTourism.com is highly affordable. It's a low bar to get started with display ads with an audience that is as qualified as they get, visitors already searching for properties in the area." ~ Toni Tiemann
First, let's look at who and what Appalachian Mountain Club (AMC) is and does…

America's longest serving conservation organization began in the White Mountains of New Hampshire. Over the years, the club expanded with chapters from Washington, D.C. to Maine and began an impressive strategy for land conservation in the 100-Mile Wilderness region of the Maine woods. The innovative approach to conservation combines outdoor recreation, resource protection, responsible forestry, and community partnerships.
"Recently we started expanding more and more into conservation in Maine," explains Toni. "AMC owns about 70,000 acres in the 100-Mile Wilderness region along the Appalachian Trail where we permanently conserve the land, including responsible forestry and ensuring the continuation of brook trout populations on AMC land."
What's more, AMC helps people get outdoors through activities close to home and beyond. In Maine, AMC invites visitors of all ages and abilities to explore and develop a deep appreciation of the natural world from three lodges, and they use a Run of Site banner on MaineTourism.com to build brand awareness.
"We use UTM tags in all of our banners to track traffic," says Toni. "We haven't seen too many direct conversions but what I will say, is these ads have been a very efficient way to drive awareness among a highly qualified audience."
The Run of Site Banner ads are a great choice for AMC. The digital content is seen on nearly every page of the website and includes title, image, tag line and direct website link. AMC optimizes their click-through rate to promote these off-the-grid lodges and wilderness adventures equally across the website.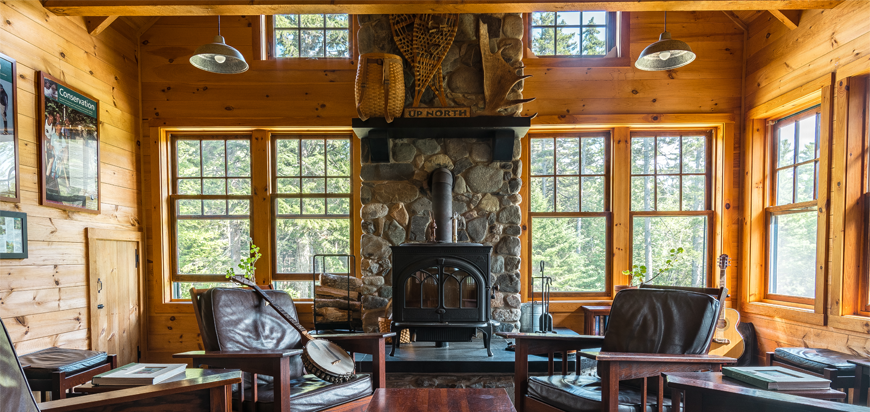 Gorman Chairback Lodge and Cabins is a private camp built in 1867, offering a spectacular location in the heart of Maine's 100-Mile Wilderness by the shore of Long Pond on 66,000 acres of forestland permanently conserved by AMC. Guests gather in the renovated central "green" lodge for meals and relaxation. Cozy, private cabins prepare visitors for hikes to Gulf Hagas and Third Mountain, a lodge-to-lodge cross-country ski, or simply for a day of shoreside relaxation miles away from life's concerns.
Little Lyford Lodge and Cabins has provided an authentic outdoor experience in central Maine's expansive Moosehead Lake region for humans and canines alike (that's right—this destination is dog-friendly!) for over 140 years. The spectacular location of forestland permanently conserved by AMC gives visitors access to cross-country skiing, fly fishing the West Branch of the Pleasant River and hiking up to Laurie's Ledge on Indian Mountain. Guests can relax or play as long as they like knowing delicious homemade meals and hot showers will be waiting for them back at the lodge.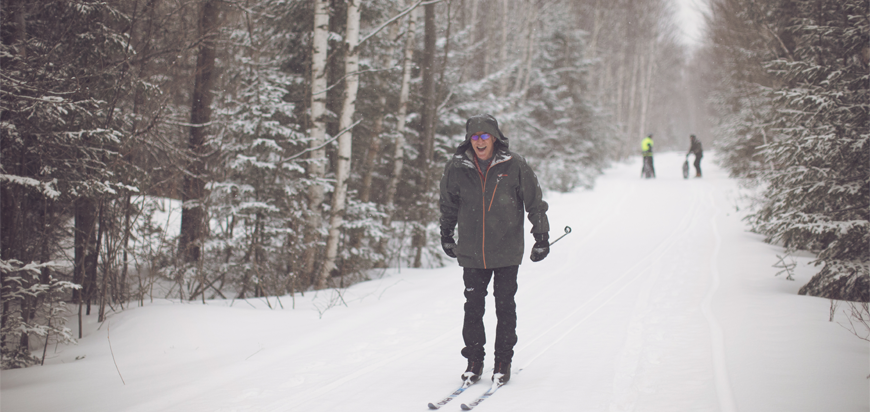 The newest destination in AMC's network is Medawisla Lodge and Cabins built on AMC conservation land and located at the confluence of Second Roach Pond and the Roach River, seven miles from Kokadjo and northeast of Greenville. Medawisla (the Abenaki word for loon) offers opportunities for hiking, paddling, fly fishing, canoe camping, snowshoeing and cross-country skiing, steps away from private cabin or bunkhouse accommodations.
These properties have been showcased on, and by, Maine Tourism Association for many years through their dedicated partnership with the association. This year, AMC began using the membership and its platforms to the fullest potential. With Toni onboard, AMC revamped and built out visibility on MaineTourism.com, updating all of the listings and adding events.
"The three lodges offer different options for guests; for example guided activities available in the summertime include fly fishing workshops and canoe or kayak activities," she says. "Beyond that, we launched the display banners with Destination Travel Network in May 2018, and we're working with the Maine Tourism Association to promote AMC on their organic social accounts and in e-newsletters."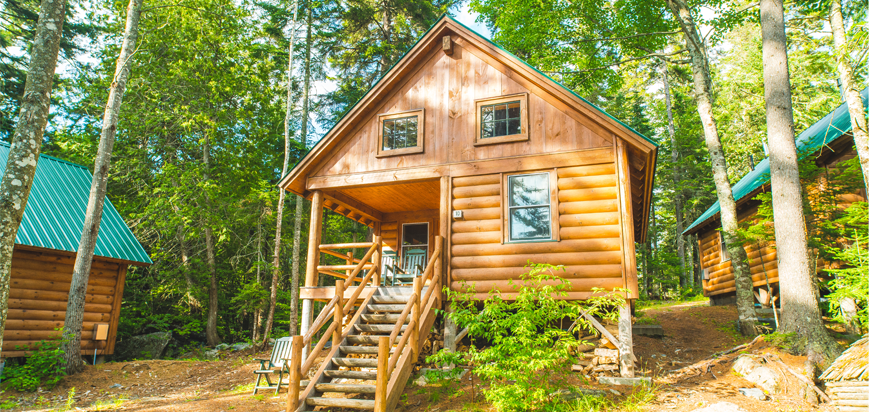 Destination Travel Network (DTN) is the official technology partner for the Maine Tourism Association. As such, DTN is responsible for managing and servicing the paid, premium digital content offered on MaineTourism.com.
"It's been a great experience working with DTN. The support team allows me to switch out creative as often as I need to, are speedy with the requests and helped me find reporting I needed," she shares.
Maine Tourism Association has been very responsive to AMC's needs. A technical glitch prevented her from posting some events to the website. The support team kept her updated while the staff at Maine Tourism Association stepped up.
"When we couldn't promote events, the association posted for us on their social media accounts and their e-newsletter," she says. "Their efforts showed they were dedicated to giving AMC the exposure our membership deserved. We are working on expanding the partnership and are very happy with the direction."
For other businesses that rely on tourism, Toni has some sound advice when entering digital display advertising.
"As far as direct buys for display ads, the program on MaineTourism.com is highly affordable. It's a low bar to get started with display ads with an audience that is as qualified as they get, visitors already searching for properties in the area. And if you're going to test, do it early and often," she concludes.
The Maine Tourism Association isn't the only destination marketing organization AMC uses. The club partners with several tourism associations, with the strongest relationships in Maine and New Hampshire. But when it comes to additional advertising, AMC places more with Maine where they find the most opportunities to capitalize on effective additional exposure.
When you stay with AMC, you are supporting a love for the outdoors, as conservation depends on active engagement with the outdoors. You can experience, learn about, and appreciate the natural world by visiting Appalachian Mountain Club online, staying at any of their lodging and camping properties, donating, volunteering or becoming a member.
Be sure to like Appalachian Mountain Club on Facebook, follow AMC on Twitter and on Instagram, and subscribe to the club on YouTube.