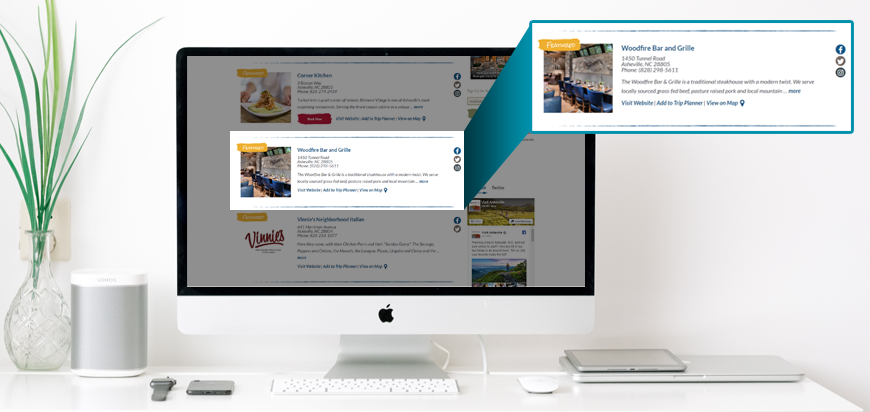 You've probably seen them. Restaurants tucked inside hotels. These eateries not only serve the out-of-town guests, but also welcome locals to come in for a meal. That's the case for Woodfire Bar + Grille. This traditional steakhouse with a modern twist serves only the finest cuts of locally sourced grass-fed beef, pasteurized pork and fish in an unpretentious, comfortable atmosphere located inside the Holiday Inn Asheville East.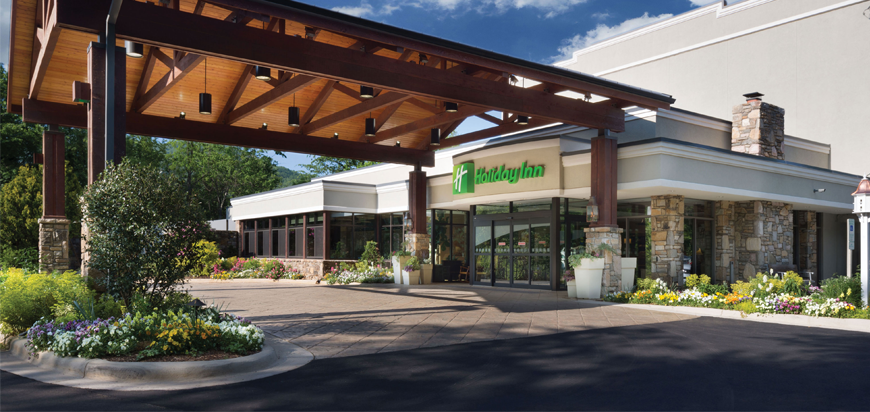 So how does this restaurant find more people to try their wood-fired steaks, chops, burgers, seafood and seasonal vegetables? Emily Crosby, Woodfire Bar + Grille Director of Sales, says they tap into their partnership with the Explore Asheville Convention & Visitors Bureau.
"We have a really close relationship with Explore Asheville because of the Holiday Inn Asheville East. It made perfect sense to coordinate efforts for the restaurant, too," Emily says.
The Explore Asheville Convention & Visitors Bureau serves 1,200 local businesses as tourism industry partners. The CVB helps connect local businesses to marketing opportunities, including digital advertising on ExploreAsheville.com that attracts over 4 million views per year.
Woodfire Bar + Grille chose to participate in the paid digital content program offered by the Explore Asheville Convention & Visitors Bureau and powered by Destination Travel Network. They have the Featured Listing, the perfect choice for the bar and grill named "woodfire" on a website with more than 300 restaurants listed. You see this placement pulls the dining establishment out of alphabetical order and puts them in the top 10 on the Asheville Restaurants page so they are seen first by website visitors.
"We find that a lot of our visitors go to ExploreAsheville.com to plan their trip before arriving in Asheville," explains Emily. "Just the fact that we're listed is really important to us. We want these visitors to find us in that planning stage."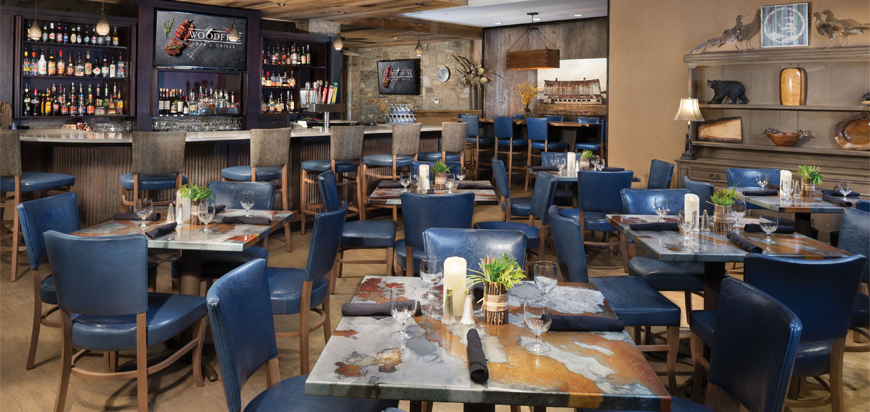 When travelers or locals find Woodfire Bar + Grille, they discover the difference Chef Jon is making in their kitchen. He strives to create simple food done well by using locally sourced, grass-fed beef, pasteurized pork, and fish. These fresh cuts of meat are transformed on hickory wood-fired grills—a slower method than charcoal that allows the flavorful hickory smoke time to transform the dishes into a taste sensation. Plus, local breweries are featured on tap and craft cocktails, oak aged wines and many choices of liquor are offered to complement the meals.
The bar and grill's commitment to bringing guests the very best in quality and service is being awarded... again. The Holiday Inn Asheville East was awarded the IHG® 2018 Torchbearer Award, the second year in a row for the hotel to win the InterContinental Hotel's Group's most coveted award.
"The award was given to 11 Holiday Inns out of 120 properties within the Americas and more than 5,300 hotels in the IHG system for 2018," Emily explains. "The award is given to hotels that achieve the highest level of excellence in all aspects of operation, including the restaurant."
Emily is continuing to use paid digital content on ExploreAsheville.com to get their name and their brand in front of more visitors.
"DTN makes it really easy to participate. It doesn't take a lot of time or resources to participate," she adds. 
If you find yourself in Asheville and are looking for some great American food, visit Woodfire Bar + Grille located inside the Holiday Inn Asheville East at 1450 Tunnel Road, Asheville, NC. The bar and grill serves breakfast, lunch, and dinner seven days a week. For reservations call (828) 298-5611. Be sure to follow them on Facebook, Twitter and Instagram for the latest news and deals.