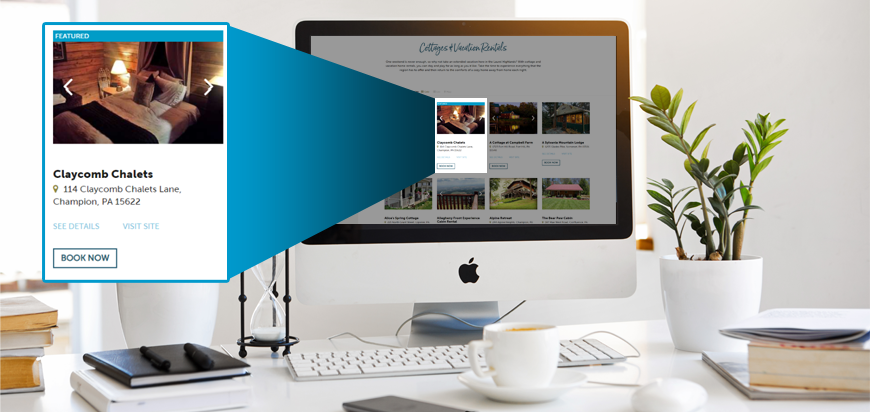 The magnificent mountainous region of the Laurel Highlands draws visitors from around the country who are looking for great outdoor adventures. What better way to experience this destination than in authentic, hand-crafted log cabin chalets? Claycomb Chalets is located near Seven Springs, Hidden Valley & Ohiopyle, and while this mountain retreat might be secluded it's easier for visitors to find thanks to paid digital content on LaurelHighlands.org.
We reached out to Dave Schwartzenberger at Claycomb Chalets to learn how this family owned business came to find success in the Laurel Highlands. The story begins with the chalets…
Claycomb Chalets were built in the early eighties by renowned mason Jack William Claycomb, Sr. This mason apprentice from Ohio retired to Champion, Pennsylvania, where he built his first mountain chalet using the skills he learned as a mason and master craftsman. He sold this Chalet to purchase the 5.3 acre parcel of land that is now known as Claycomb Chalets.
Jack, his oldest son Jack Jr. and long-time friends built six mountain Chalets each the same in design. For nearly 34 years he leased his Chalets to local mountain employees, ski patrol and long-time seasonal visitors. Today, Claycomb Chalets is owned and operated by Jack's children Jack Jr. and Julie Claycomb. They continued their father's legacy by opening Claycomb Chalets to the public in 2014 for short-term vacation rentals in their father's one-of-a-kind Chalets.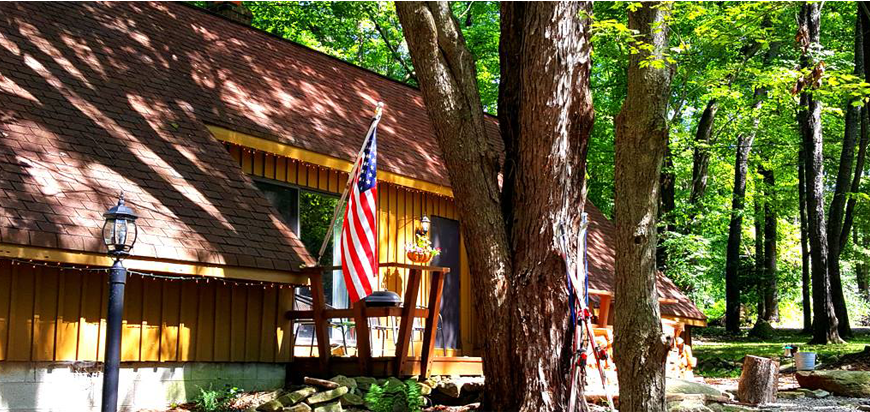 With the resort, came the need for advertising and marketing to make sure guests found their way to this retreat. A place families and friends can gather in fully equipped cabins with kitchens and cozy bedrooms in handmade cabins featuring real-wood floors, large wood beams with exposed bark and ambient lighting with locally sourced cabin décor. This is where Dave comes in.
"While doing research on local travel destination guides, I ran across the Laurel Highlands Visitors Bureau's website. It looked very professional so I decided to inquire about advertising opportunities," Dave explains. "The value associated with being listed with the top destination website for our area was too good to pass up."
Dave worked with Destination Travel Network to find the right campaign. After explaining his goals to the representative they decided to start with a Places to Stay Featured Listing on the Cottages and Vacation Home Rentals page. In 2018 after speaking with Senior Account Executive Gail Stewart, the program increased by adding an additional Featured Listing on the Places to Stay Page and a Spotlight Text Link.
The Featured Listings pull the resort out of alpha order and puts Claycomb Chalets at the top of the business listings on both pages. The Featured Listing is also enhanced with a "featured" label and includes a visit website button. The Spotlight Text Link puts Claycomb Chalets across almost every page of the website and is easily updated for seasonal events and offers.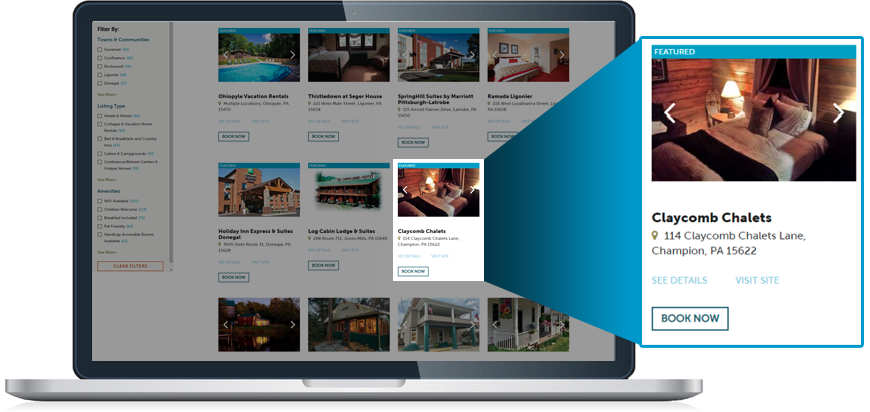 The digital content campaign is performing well. In the last six months, the campaign generated 202,918 impressions and 1,967 clicks for a 0.97% average click-through rate. He's also seeing the results in his reports.
"Our business is mostly derived from internet bookings and this advertising program provides the most targeted traffic to our website for what we have to offer. Our conversion ratio is well above any other paid advertising we participate in, including Google Adwords," says Dave.
This isn't the only advertising platform the resort relies on. Where competition is fierce for guests, Claycomb Chalets casts a wide net to catch as many guests as they can. This includes strategically planning their advertising and marketing to include GoogleAdwords and all of the major booking engines: Airbnb, Homeaway/VRBO, GlampingHub and Booking.com.
"Nothing compares to the targeted traffic from LaurelHighlands.org, not to mention many of these other programs do not allow us to link to our website," Dave shares. "I would recommend the digital content program offered by Laurel Highlands to anyone offering vacation rentals here."
For those who are venturing into any new types of advertising (digital or otherwise) Dave has sound advice and can share his own experience starting out on LaurelHighlands.org.
"You have to stick with it. In our case the first month or two were slow, but we were new to the area and it was an off-time of the year when we joined. By the third month, this program was providing over 500 new visitors a month to our website," says Dave. "I started to ask where the guests had heard about us and almost every time the response was the Laurel Highlands website."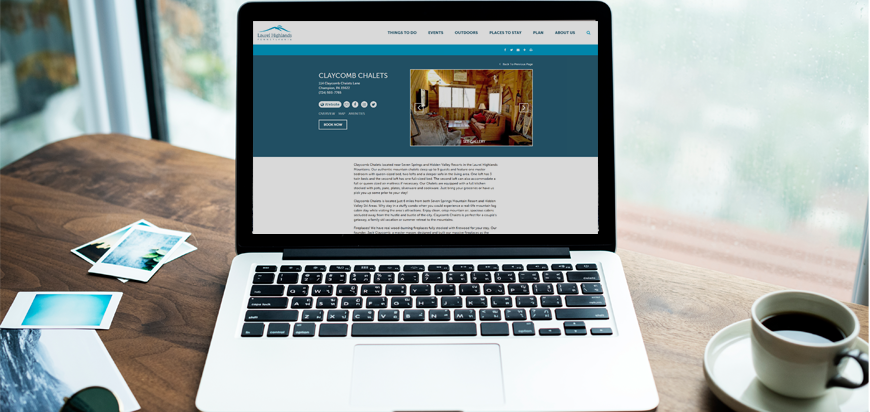 LaurelHighlands.org is the website for the Laurel Highlands Visitors Bureau (LHVB), the destination marketing organization dedicated to promoting Fayette, Somerset and Westmoreland counties in Pennsylvania. Established in 1958, the LHVB implements year-round seasonal marketing campaigns throughout the Northeast and Mid-Atlantic to enhance awareness of the Laurel Highlands as a travel destination. The LHVB and its partners influence thousands of decision makers and millions of visitors to choose the Laurel Highlands through direct sales, marketing, public relations, branding and visitor services. For Dave and the Claycomb Chalets, their partnership with the LHVB is paying off.
"It is all about conversions, and the Laurel Highlands campaign drives the right traffic for what our business needs ultimately resulting in higher conversions and return on investment. I couldn't be happier with everyone at the LHVB. They are very professional and understand the business they are in," he concludes.
When you find yourself in the heart of Laurel Highlands and are looking for a retreat to call home for a few days or weeks, explore Claycomb Chalets. You can even book online, and be sure to follow Claycomb Chalets on Facebook and Pinterest.