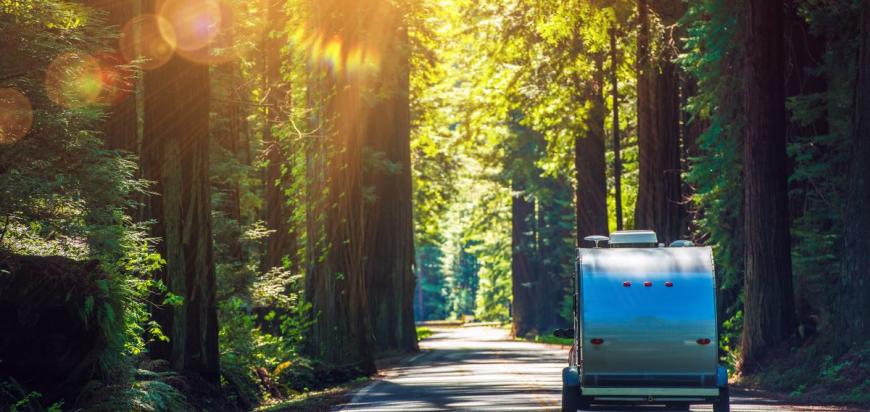 Featuring Christine Livingston, assistant director, Indiana Dunes Tourism
Last summer, we published a DTN Flight Plan series all about road-tripping, the surge of drive tourism in the wake of the pandemic. And throughout my research on the topic, I was intrigued. I'd long been looking for an alternative to the whole airport experience; parking, shuttles, security, germs, waiting, waiting, and waiting. I'm over it. I'd be a happy man if I could go the rest of my life and never set foot on a plane again. 
But what's the alternative? Towing a small home behind us. Planning a seven-day road trip — a seven-day adventure? Well, that sounds … awesome. And my wife didn't completely kibosh the idea. So when a neighbor revealed that she was selling her camper trailer, we jumped on it. We're planning our first BIG road trip in April, from Central Oregon, down the coast to L.A. and then over to Southern Arizona for the Simpleview Summit. 
But I'm brand new to this, and I honestly have no idea what's next. I mean, what will this experience really be like? What drives road-trippers to the road? This blog series, The Spirit of the Road, chronicles our road-trip adventures down the Pacific Coast and back up through Utah and Idaho, and back to Oregon and searches for some meaning behind the move to the road. 
Follow Kurtis' road-tripping adventures on Instagram @DTNads.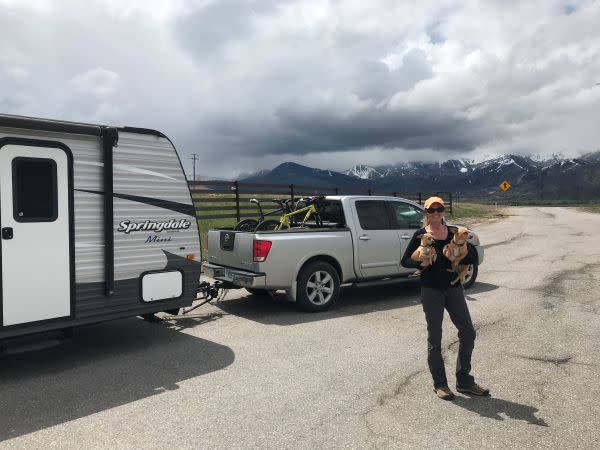 Part One: Spontaneous Exploration
To kick off this adventure, I appealed to the insights of seasoned road-tripper and outdoor enthusiast Christine Livingston, assistant director of Indiana Dunes Tourism.
KURTIS: Christine, being a seasoned road-tripper, I imagine you're relatively settled into your on-the-road life; pre-trip prep is pretty straightforward, hurdles have become somewhat predictable, maybe you have favorite routes that you know by heart. At one point, though, you were brand new to RVing, and something happened that pulled you back to the camper road-trip experience time and time again. What experience initially drove you to love road-tripping and to fold it into your lifestyle? 
CHRISTINE: There was more than one aspect of camping that drew me in. I love being outdoors, exploring, and meeting new people. I recall once when we were headed to the East Coast, we discovered at the last minute that a hurricane was expected to touch down near our destination. So we stopped, checked the forecast, and headed instead toward sunnier weather. The nice thing about traveling in a camper is that we can be flexible and last-minute changes are simpler. We sometimes decide at the spur of the moment that we want to hit the road. Our camper is pretty well stocked. Just add food, beer, and we are on our way!
KURTIS: Taking notes: "add beer …"
The ability to be flexible and impulsive are huge draws for me and, it seems to me, are important ingredients in any adventure. How have your RVing experiences since then bolstered your passion for this kind of tourism? 
CHRISTINE: I like to slow down and really experience a place. Camping makes that possible. Plus, having a camper makes it more comfortable than tenting and less weather contingent.
We also like a wide variety of experiences. We enjoy both walkable, urban experiences with great dining as well as more remote and natural settings. We've found people in both scenarios are friendly and helpful. Campers look out for each other. Fellow campers have lent us tools, shared groceries and firewood, and are generally pretty cool. We've met interesting people from all over that we never would have encountered traveling via air — heard so many interesting stories. I walked a fellow camper's pet iguana on a leash once. And we met a couple who had their entire camper and set up themed in red for a concert — down to the dog bowl and their jackets — pretty interesting to see. It's just more fun!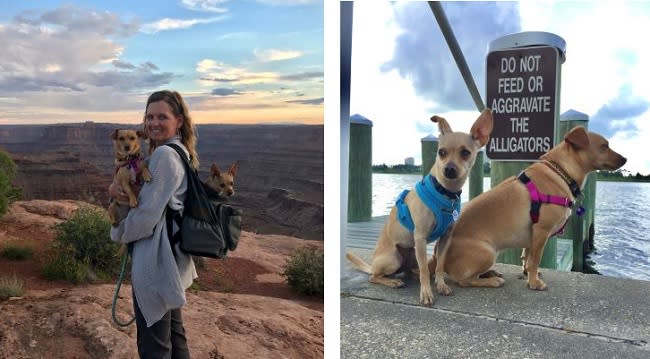 Traveling with our pets is another bonus. Our camper makes this a breeze and for a fraction of the cost of staying at traditional accommodations. A little research ahead of time to locate pet-friendly spots makes taking pets more convenient and much more fun than boarding. My dogs have traveled so much that they know the drill. Dining and attending outdoor events with them is easy now.
KURTIS: I've just started researching campgrounds en route from Central Oregon down the coast and then over to Tucson. But I think I'm more drawn to the notion of wilderness boondocking or staying off-grid on public land somewhere, especially in the woods. I imagine boondocking melds well with your affinity for more secluded and quiet locations and to get you (and the dogs) outdoors. Do you camp off-grid often? 
CHRISTINE:
Wilderness boondocking has big appeal. My daughter works for the Forest Service in California, knows the spots to go, and does this in her Subaru. It inspired me.

I'm not hardcore enough to go with no amenities for long, though. Our camper is compact with small tanks, the battery doesn't last long, and no solar power — yet :) More boondocking for us once we upgrade. Boondocking makes it even easier to be flexible because you don't need reservations. I'm sure you guys will find some cool spots on that route!
"People want to visit America in a more meaningful way."
— Christine Livingston, Assistant Director, Indiana Dunes Tourism
KURTIS: What about the more urban experiences? We're really drawn to stops at some of the smaller beach towns down the coast; public beaches, nearby state parks, and adorable downtown and city areas that celebrate local restaurants, coffee shops and (to your earlier point) breweries. In this way, I guess RV road-tripping is pretty Americana. Right?
CHRISTINE: Based on my conversations with road trippers here in the Indiana Dunes and during my own trips, I think people want to visit America in a more meaningful way. I spent many years traveling to interesting destinations for industry events or work-related training but had to fly in and out so quickly that I never really saw the places. Driving cross country, on the other hand, we stop at what interests us spontaneously, stay as long as we want, then roll along to the next spot. What a contrast and so much more fun! 
Other road trippers I've talked to also love spontaneous exploration. Just since I started road-tripping, several friends have been inspired to get/rent their own campers and try road-tripping for the first time. I believe the trend will continue to grow.
KURTIS: Knowing that I'm new to this, what have you learned in your experiences that you maybe wish you'd known when you first started road-tripping? 
CHRISTINE: Most Walmarts will let you camp for free in their parking lots. We learned this after we had been road-tripping for a while. It can be a great plan B in case campgrounds are all full. We have done it a couple of times in a pinch. 
Another important thing I've learned is to allow time to stop. We used to drive 10-12 hours a day. Now we stick to driving 6-8 hours per day so we can stop and aren't pressed to stay on schedule. This transformed our trips. My dad and I traveled to California and happened to find that the salt flats in Utah had about a foot of water covering them. There was this layer of water covering the flats as far as the eye could see. It was ethereal. How could we not slow down and spend time taking this in!? Since we had planned for spontaneous adventures, we weren't pressured to get back on the road. Sometimes those unplanned stops are the most memorable.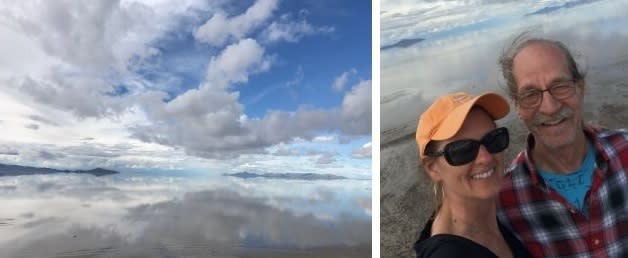 ###