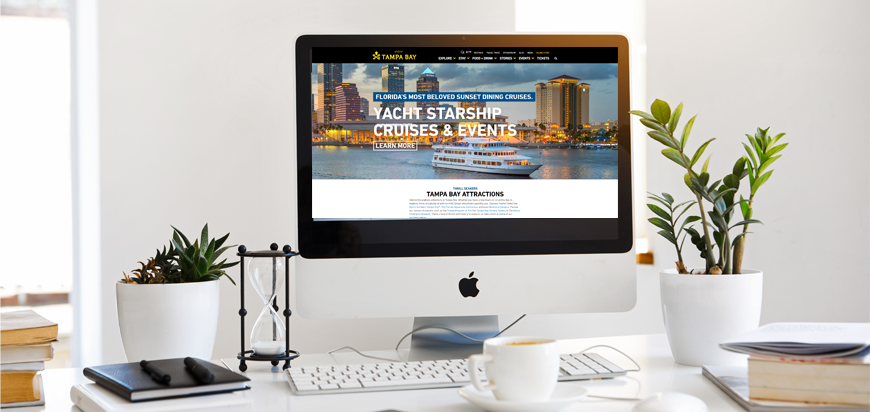 Visitors to Florida's West coast come to Tampa Bay for the blue skies, sunny beaches, sparkling waterfront, world-class chefs, family fun…the list goes on and on. What better way to explore and experience this diverse travel destination than by sea?
Luckily Yacht StarShip docked in Tampa Bay in 2001, in search of guests to explore Tampa Bay by water. So just how does a small tourism business standout from the sea of attractions in a popular, year-round vacation destination like Tampa, Florida?
For Yacht StarShip, it takes advertising and marketing campaigns combined with strategic destination marketing organization (DMO) partnerships that keep these luxury vessels afloat, including paid digital content on VisitTampaBay.com. We spoke with Director of Marketing Jennifer Richardson to find out how this small business reaches tourists and travelers through their official DMO.
First, let's understand the scope of this bayside attraction. Yacht StarShip is a dining cruise company with two Florida locations; Tampa Bay and Clearwater. In Tampa Bay, visitors can embark on one of four cruise ships for sunset dinner cruises, holiday special event cruises and dance cruises. The vessels can also be chartered for private sailings: think weddings and corporate events for instance.
"The Yacht StarShip is an excellent way for Tampa visitors to explore the sights while savoring Florida cuisine," explains Jennifer. "There's also a DJ on board so guests can dance under the stars on the top deck after dinner."
President and CEO Troy Manthey didn't stop with yachts. He saw the opportunity to provide Tampa's visitors water transportation by launching Pirate Water Taxi in 2016. These smaller vessels allow guests to trade in bumper-to-bumper street traffic and stop lights for smooth sailing and possible dolphin sightings as they sail around the bay to Tampa attractions and restaurants.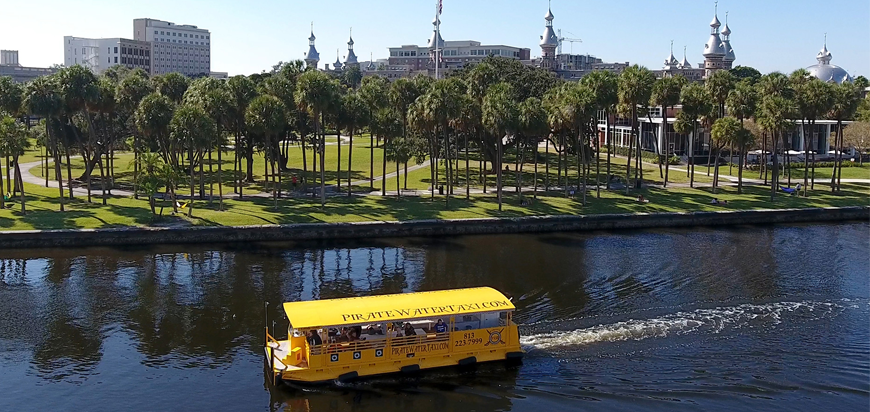 Troy and his employees rely on tourists to survive and thrive, and he is a firm believer in the power of destination marketing organizations. In a 2017 Visit Florida tourism video, he remarked that as a small business, they were not capable of marketing to out-of-state visitors like these official tourism bureaus can and do, saying that's unsustainable for him personally. He also credits Visit Florida's marketing efforts with his success, and the ability for him to offer benefits like a 401K to his growing employee base. He continues his partnership with DMO's by partnering with Visit Tampa Bay and actively participates in all of their events and opportunities.
"We know that Visit Tampa Bay does a great job marketing our destination. Visitors coming to Tampa want to know what there is to see and do when they are here. We have two tourism services that appeal directly to visitors. We saw the program offered by Destination Travel Network to get added exposure on VisitTampaBay.com as a great opportunity," says Jennifer.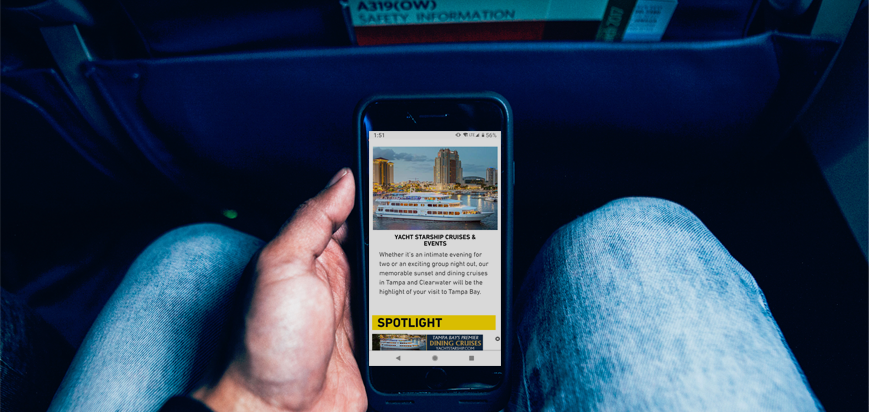 Yacht StarShip runs a full digital content campaign on VisitTampaBay.com. The company started with a Featured Listing on the Food and Drink page in 2015 and in March 2018 added a Water Activities Page Sponsor, Homepage Spotlight, Attractions Header Image and a Mobile Banner strategically placing Yacht StarShip on the pages their demographic will use on this powerful planning website.  Pirate Water Taxi, the smaller of the two businesses, has a Tours Page Sponsor as well. And that's not all.
"We take advantage of all of the opportunities available to us on VisitTampaBay.com, from Events Calendar postings to making sure our business listings are current and updated. The Extranet makes this process super easy; it's all self serve which is great," says Jennifer.
And the exposure from the DMO website is working, just consider these results! In 2018 the Yacht StarShip campaign received 377,650 impressions and 4,594 clicks for an average 1.22% click-through rate, and the Pirate Water Taxi campaign received 9,277 impressions and 795 clicks for an 8.57% average CTR. Jennifer is seeing this traffic from VisitTampaBay.com to YachtStarShip.com and PirateWaterTaxi.com in her reports. But she doesn't rely solely on this DMO website.
"We are going after so many different people; locals and travelers, people who are in town for the weekend and people who are here for business, all looking for things to do," explains Jenner. "And we offer a lot of different services from the dinner and holiday cruises to private charters and daily service on the water taxi. We can't put all of our eggs in one basket so we use a variety of avenues like this, paired with Facebook and print."
While Jennifer manages all of the marketing and advertising campaigns, she definitely recommends using the paid digital content program available from Visit Tampa Bay to any business looking to gain additional exposure.
"We're big fans of Visit Tampa Bay. Everyone there is great and we're getting the added exposure we are looking for!" she adds.
With summer right around the corner, you could be planning your trip to the Florida West Coast. If you find yourself in Tampa Bay for business or pleasure, you'll find Yacht StarShip and the Pirate Water Taxi must-dos while you're there. Learn more about Yacht StarShip and Pirate Water Taxi online. Follow Yacht StarShip on Facebook, Instagram and Pinterest. Follow Pirate Water Taxi on Facebook and Instagram.