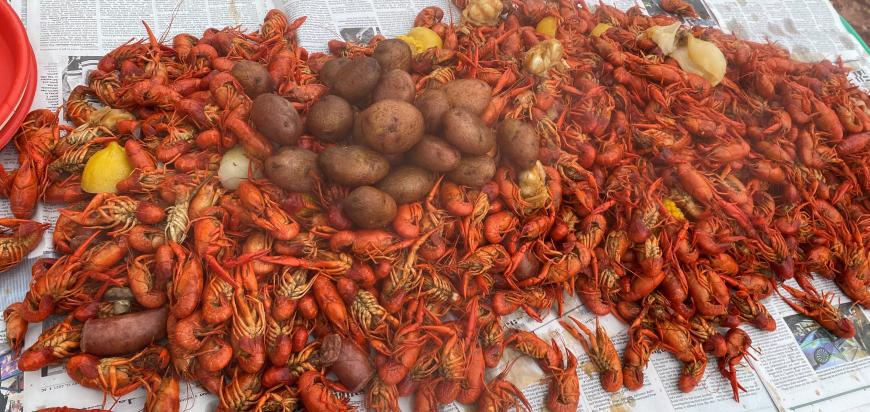 To get the inside scoop on the seafood cuisine of Jefferson Parish, DTN went straight to the source: Charlene Hale, Visit Jefferson Parish's director of leisure and partner sales. A tremendous advocate for the tasty side of Jefferson Parish, Charlene answered all of our burning questions (and made our mouths water in the process)! Read on for Charlene's insights:
To say we take our food seriously is an understatement. So much of our heritage and culture is based on our incredible food that combines the cuisine from so many different nationalities. Louisiana oysters are a sought-out delicacy because of their salty taste that comes from the perfect combination of salt and fresh water.
A Seafood Melting Pot
Q: You mentioned that much of Jefferson Parish's food is a combination of cuisines from many nationalities. Tell us a little about those different influences and how they show up in your food today. 
A: New Orleans is our next-door neighbor and a port city, therefore a melting pot. Jefferson Parish consists of all the suburbs of downtown and spreads all the way down to the Gulf of Mexico in Grand Isle. The biggest national influences are French, Spanish, Italian, German, and African. Each nationality has added their own spin on dishes, but they all have seafood as a staple ingredient due to our proximity to lakes, bayous, and the Gulf of Mexico. 
A few examples:
Gumbo – a favorite Cajun dish
Red Beans and Rice – a local favorite on Mondays, is believed to have started by enslaved West Africans, is often served with sausage, or fried fish
Beignets – originally a favorite French breakfast treat, have evolved into seafood stuffed treats as well
Muffulettas – a sandwich of salami and provolone, topped with olive salad, is Italian, but now you can get Seafood Muffulettas that are served on the Italian bread
Charbroiled Oysters – this delicacy was created at Drago's Restaurant and is now served in restaurants all over the U.S. The restaurant chain was founded by Croatian immigrants.
Not only did all of these cultures introduce these different cuisines, but because of our love for food in Southern Louisiana, there are many dishes that have become a mixture of different food types. For example, you might go to a Mexican restaurant and eat crawfish tacos topped with a French cream sauce.
Traditional Dishes Reign Supreme
Q: It sounds like seafood options are practically endless in Jefferson Parish, and you can sample just about any cuisine with a Southern seafood twist! Is the seafood generally prepared in a way that is traditionally Southern or in a way that reflects the different nationalities or cultures?
A: Our seafood is prepared differently depending on the time of year. You can get crawfish from late January until early summer. During this time of year, boiled seafood is at its prime! The traditional way to eat crawfish is boiled spicy with other sides in the boil like potatoes, mushrooms, corn on the cob, onions, garlic, sausage, hot dogs, celery, etc. 
When it is not crawfish season, seafood is mostly prepared in the traditional Southern style — but in Louisiana, a little spicier than other southern states. We don't like bland food! Very often, fried seafood is served with a spicy cocktail sauce or remoulade sauce for dipping. 

 Fried seafood at Deanie's Seafood.
Q: For the sake of educating people who didn't grow up in the South, like myself, can you tell us a little about "traditional Southern style" seafood? What spices or seasonings are traditional for Louisiana seafood, as opposed to the rest of the South? 
A: In my opinion, traditional Southern style always starts with frying off something in vegetable oil or butter. We love to fry everything! Fish fry is a combination of flour, corn meal, and spices blended to make a crunchy crust for shrimp, fish, crab claws, oysters, and all the fixings such as French fries, hush puppies, onion rings, etc. 
Blackened fish is made with fish filets coated with different spices and then pan-fried in butter. Gumbo starts with a roux, which is flour fried off in oil. Etouffee starts with frying off the traditional "holy trinity" in butter before you add your seafood. The "holy trinity" is onions, bell pepper, and celery. 
Serving things over rice is something else that I consider traditional Southern style. We love pouring soups and sauces over rice! Gumbo is served with rice, etouffee is served over rice, shrimp Creole is served over rice, and jambalaya is a rice dish.
We love adding spices and seasonings that tend to be on the peppery side, and we have numerous Louisiana-based companies that make spicing up food easy, such as Zatarain's, Tabasco, and Mam PaPauls.
Some Like It Hot
Q: Do you find that visitors typically know about the spicy specialties of Louisiana/Jefferson Parish before their visits, or is it something that they (happily) discover when they're in the area? 
A: I think it is a combination of both. I think that Louisiana has a reputation for having great food and most visitors are aware of that, but maybe not that it is easily available and affordable. I think it is a pleasant surprise to visitors that you don't have to eat in a fancy restaurant to have a great meal. Our small restaurants and "hole-in-the-wall" local favorite places all serve great food. It is just not acceptable here to have just ordinary anything when it comes to food. 
Boiled seafood tray at Perino's Boiling Pot.
Q: Do your local restaurants benefit from serving Southern seafood, knowing how popular it is? While offering popular dishes would certainly help a restaurant's bottom line, is there a sense of community amongst eateries that offer seafood?
A: Our restaurants benefit from serving Southern seafood because it is profitable and what their customers expect. I think that there is a sense of community amongst them because they often buy from the same local fishermen and oyster farmers. Also, a lot of our restaurants are family-owned and have been in business for years and are very generous in giving back to the community.
Sharing the Love
Q: Tell us a little about your famous Oyster Trail!
A: The Louisiana Oyster Trail came about after the BP oil spill to spread the word that Louisiana seafood was safe to eat. The trail is an experience focusing on Jefferson Parish restaurants serving Louisiana oysters, and they are identified by a 3-foot tall oyster sculpture hand-painted with flair by a local artist.
Q: If you had to recommend one seafood dish to visitors that they absolutely MUST try while in Jefferson Parish, what would it be?
A: I think the one dish that I would recommend is charbroiled oysters.  Most seafood restaurants in our parish have their own sauces, but most are similar with a garlic butter sauce and cheese. The oysters are amazing prepared like this, and then, of course, a hot piece of French bread to sop up the garlic butter sauce is a necessity.
Charlene's culinary passion and insights may just inspire visits to Jefferson Parish. We're eager to explore the flavors of the region with some unforgettable meals!