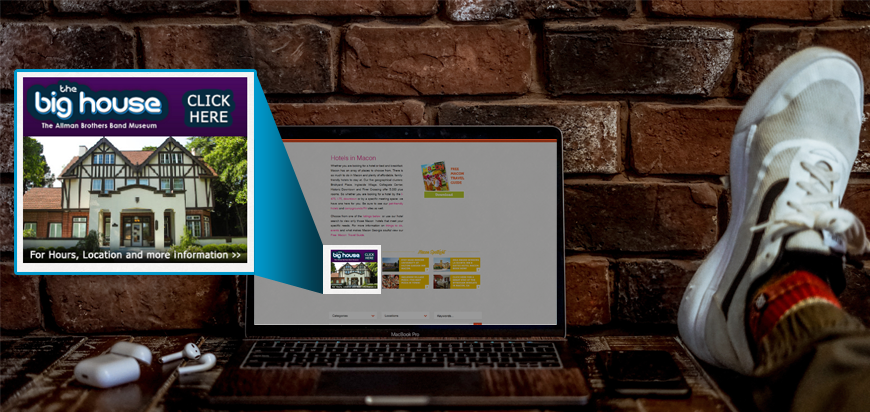 I'm trying to recall when I first heard the Allman Brothers Band. I can't—their songs are part of my childhood soundtrack. Southern Rock jams that floated out of my Dad's eight track while he fixed a car in the driveway, sometimes from my best friend's Dad's radio as we lay by her pool. Both of these great men have passed yet listening to these songs today takes me right back to those warm, endless summer days.
That's the power of music; the connection to your memories so you can recall times gone by. As I researched digital content campaigns on MaconGA.org and saw the Allman Brothers Band Museum at the Big House, I knew I had to know more. I reached out to Director of Marketing Maggie Reimer to learn about this unique piece of southern music history and what role digital content plays in their attraction.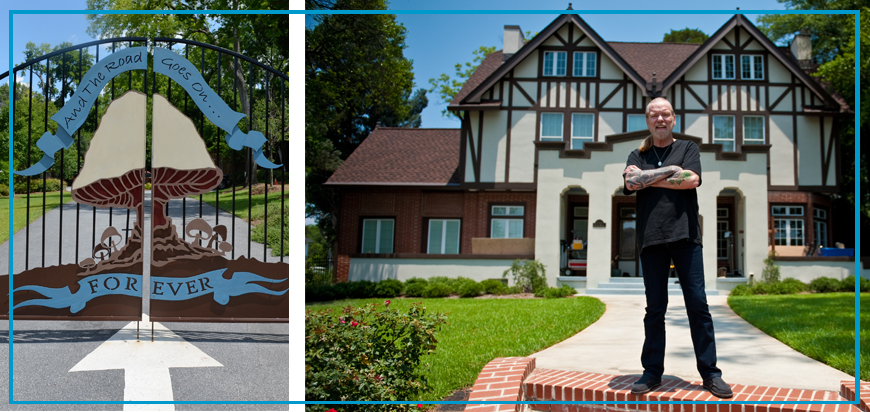 "The museum is the actual house the Allman Brothers rented from 1970 to 1973. "The Big House" was the hub for the band's formative years and the source of inspiration for songs written here and inspired by the house and Macon." explains Maggie. "Even though the band was on tour for a majority of the time they lived here, this rental house was their home where all of the girlfriends and wives and kids lived or hung out together."
Today, what was once the Allman Brother's rental house is The Big House Museum, home to the largest collection of Allman Brothers Band memorabilia in the world. A place fans and visitors can tour the rooms the original band jammed and rehearsed in; the old dining room with Gregg and Cher's pool table; the living room filled with instruments and hand-written lyrics; the roadie room dedicated to the 'hardest working folks in the rock world'… there's a lot more but you get the idea. The Big House Museum takes you back in time, as any good museum should.
"We have about 10,000 guests annually. We always ask how they heard about us. A lot of these are fans coming to Macon for this experience. We also get Macon visitors who didn't know we were here until they saw us on the website." ~ Maggie Reimer
A lot of the guests of the museum are fans seeking to reconnect with their favorite band. For those who might not even know the museum is here (like me) there is MaconGA.org, the official tourism website of Macon, Georgia.  The Big House Museum has been a partner of Visit Macon for as long as Maggie can recall.
"It has kind of always been there and we've been involved from the start really," says Maggie. "Visit Macon is a great partner for us and having Visit Macon on our side is a huge help."
Some of that marketing assistance comes from the paid digital content program offered to Visit Macon tourism partners through their partnership with Destination Travel Network. The Big House Museum's digital content campaign includes a Featured Listing, Events Header Image and Run of Site Banner, placing this museum right where visitors can find them, and across almost all of the pages of this popular planning website.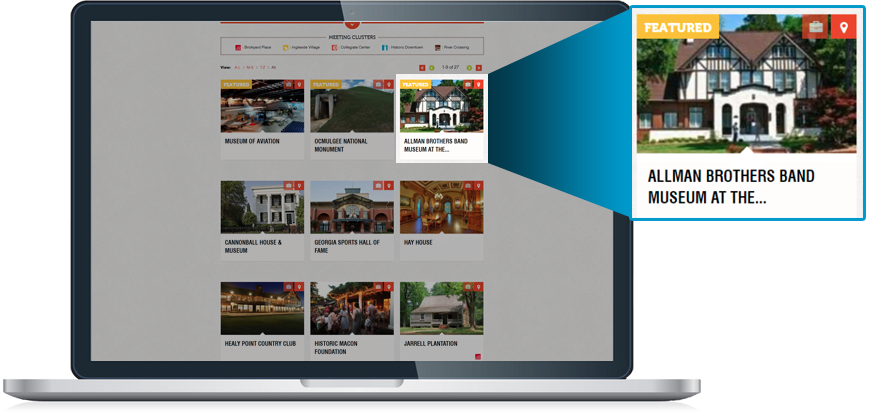 "We have about 10,000 guests annually. We always ask how they heard about us. A lot of these are fans coming to Macon for this experience. We also get Macon visitors who didn't know we were here until they saw us on the website. That's super great," shares Maggie.
Like any well-rounded advertising and marketing plan, the museum doesn't rely solely on digital advertising with Visit Macon. When in the city, locals and travelers will see a couple of the museum's billboards along the interstate, plus print ads in local magazines and social media campaigns, not to mention shows and concerts held there and word of mouth. With all of these avenues, Maggie recommends turning to destination marketing organizations like Visit Macon.
"I definitely recommend Visit Macon because of their staff; they are always willing to go the extra mile to promote the local businesses," says Maggie. "The website is great and the integration of Destination Travel Network for additional exposure is really wonderful. The program is easy to use, easy to understand and not hard to do."
The Allman Brothers Band Museum at the Big House guarantees that the dreams, music, and legacy created so long ago by the band will live on.
"This place is really special and unique as far as a museum goes. This was their home and visitors here can see lots of different perspectives and experience where their favorite band lived, worked and played. You can't find that in most band museums," concludes Maggie.
As I listen to their greatest hits, I can't help but think my Dad fancied himself a ramblin' man growing up in Memphis, Tennessee —makin' a livin' and doin' the best he can until it's time for leavin'. Lucky for me, he met my mother as a young Marine stationed in Cherry Point, North Carolina, settled in Kansas City, Missouri, and introduced his son and daughter to music from the likes of the Allman Brothers Band. If he was still here, I'd take him to The Big House Museum—I just might go anyway.
If you find yourself in Macon, take a trip back to the 70s and revisit your favorite jams by exploring The Allman Brothers Band Museum at The Big House. Tours, exhibits, ticket information and more can be found on TheBigHouseMuseum.com. Follow the Big House Museum on Facebook, Twitter, Instagram and YouTube.