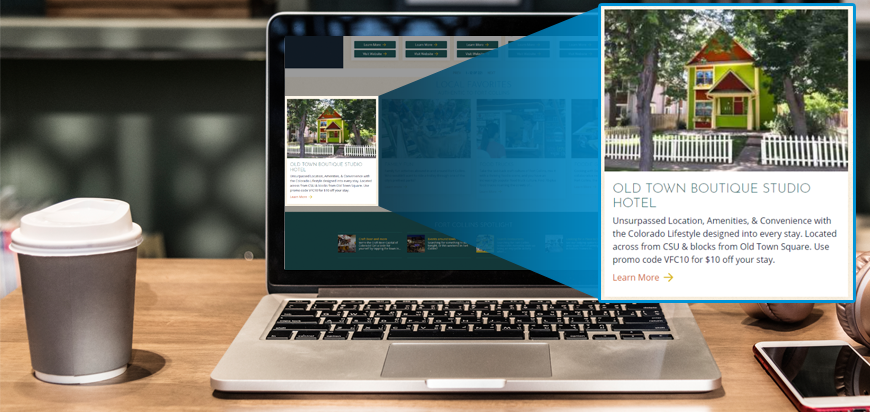 A short drive north of Denver you'll find Fort Collins, Colorado. The home to Colorado State University boasts eateries, breweries, shops and more in a heavenly atmosphere complete with snow-capped mountains and idyllic lakes and rivers. With 300 days of sunshine, people like to visit here year round. For those looking for a unique hybrid of bed and breakfast, vacation rental and luxury hotel, Remington Flats is the perfect boutique studio hotel in Old Town Fort Collins.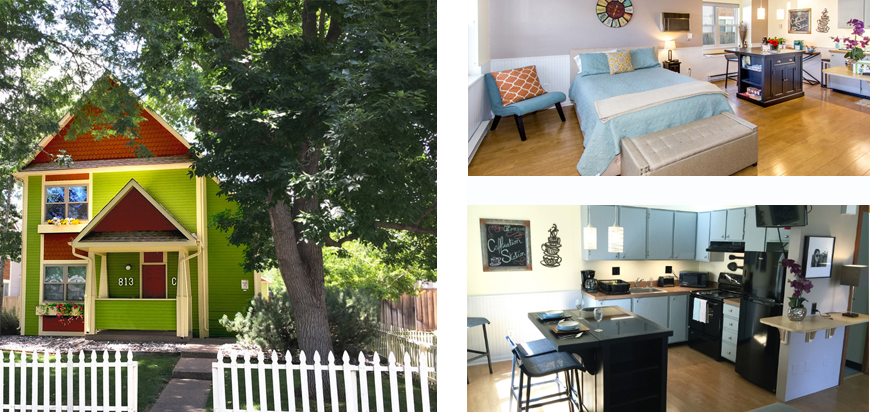 Offering just four studio rooms in one of the most historic neighborhoods of Fort Collins, this small business has to be very careful how they spend money on marketing and advertising. Luckily, they heard about the opportunity to showcase Remington Flats on VisitFortCollins.com at the annual renewal drive.
"Our budget is very small so we have to see almost immediate ROI for us to make sense of ongoing spending for advertising," explains Annie Cross of Remington Flats. "We tried other more expensive avenues with very little success and in some ways that made us even more cautious about spending."
"Nearly 40% of our overall website traffic is coming to us as a result of our partnership with Visit Fort Collins. That's significant in that it gives us local, regional and national exposure at an affordable rate." Annie Cross
Understandably so, where competition is high for guests and budgets are low, business decisions have to make sense. Annie spoke with Visit Fort Collin's internet technology partner, Destination Travel Network, and felt confident that her representative, Meredith Sasser, understood their expectations.
"Meredith was confident we would see results and she shared some stats on our web traffic that we didn't have ourselves. She offered us premium placement for a trial period at a cost we felt we could live with," says Annie.
The decision has certainly paid off. Annie chose a run of site banner, one of only four available to lodging businesses, that put the boutique hotel on nearly every page of VisitFtCollins.com. From the breweries page to the events page to the hotels page and more, visitors planning their trip to Ft. Collins will see Remington Flats' premium digital placement.
"Nearly 40% of our overall website traffic is coming to us as a result of our partnership with Visit Fort Collins. That's significant in that it gives us local, regional and national exposure at an affordable rate," says Annie. "This exposure is crucial for a small business and also very difficult to find! Further, unlike other promotional outlets, we don't have to offer any discounts to drive that business to book with us."
Their visually attractive digital content includes descriptive copy and links directly to their website. Once on RemingtonFlats.com, users can see photo galleries filled with their light-filled studio spaces featuring large windows, colorful furnishings and fun décor. Overlooking a tree-lined street or garden gives this place the feel of the quaintest bed and breakfast.
Ideal for leisure and business travelers, the studios offer work areas, living spaces, full kitchens, laundry, free high-speed internet, coffee cart stations, large yard and fire pit. Plus, guests are thrilled to find complimentary local beer, coffee, tea and goodies are provided in each room, as well as classic New Belgium cruisers are available for Remington Flat's guests to use exploring Old Town by bike.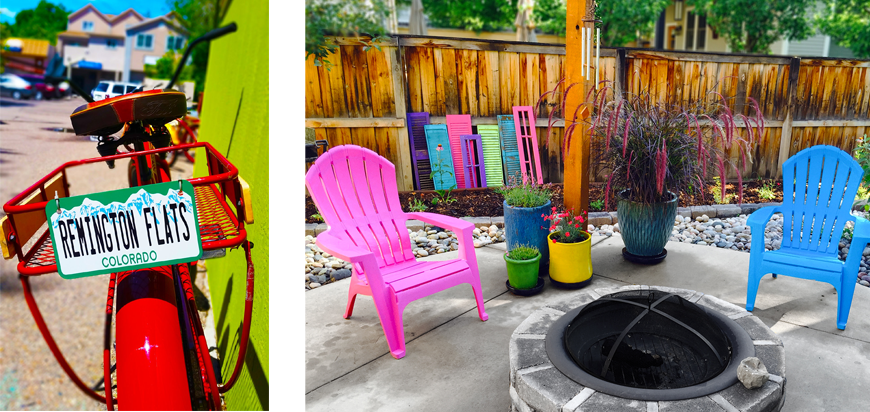 With such amazing and measurable results, Annie recommends this advertising for any business in part because of the return on the investment but equally important to her, she appreciates the representatives that really take time to understand their business and are very responsive to their needs. 
"We just can't say enough about our relationship with Visit Fort Collins. Everyone is outstanding, friendly and helpful, and we feel they genuinely want to see us succeed!" shares Annie. "I have found the follow through to be outstanding and the reps to be a delight to work with at Destination Travel Network."
She concludes they think there is value in any business looking at advertising opportunities that have wide-reaching audience exposure which also offers a local feel.
"Adverting is very expensive, extremely competitive and the results vary widely. Advertising on Visit Fort Collins' website, for our type of business, makes the most sense," she says.
When you're ready to travel to the foothills of the Rocky Mountains to immerse yourself in practically limitless recreational opportunities, diverse cultural attractions, a vibrant nightlife scene and family fun, make sure you check out Remington Flats. They welcome any traveler for short and long-term stays (including your furry friends), and provide a perfect place for romantic getaways and events from weddings to reunions.
Larger parties can stay at their sister property, The Fort Apartment. This historic basement apartment is located in the heart of Old Town has a private yard and entrance. This space easily sleeps four adults and is perfect for those seeking high-quality accommodations, a cool vibe and lots of luxury amenities only four blocks from CSU and walking distance to Old Town Square. 
You will be able to find Remington Flats on VisitFtCollins.com, they're extending their contract. As for the studios, you'll find those located at 813 Remington Street, Fort Collins, CO. You can book your reservation online. Be sure to like Remington Flats on Facebook and follow the boutique hotel on Instagram.