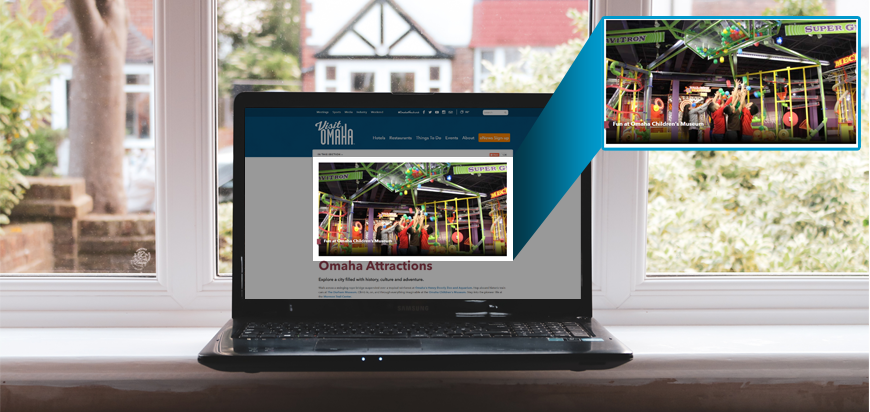 Since its inception in 1976, Omaha Children's Museum continues to be a special place where children challenge themselves, discovering how the world works and learning through play. The museum offers hands-on exhibits, workshops, programs, presentations and special events that put children in touch with their ever-changing world. When this popular attraction wanted to make sure visitors found their way to the museum, they turned to Visit Omaha and Destination Travel Network.
"We're familiar with VisitOmaha.com, and partner with them on different print and broadcast campaigns," explains Kim Reiner, Omaha Children's Museum Director of Marketing and Public Relations. "When DTN approached us about advertising on the website, it seemed like a smart addition to our campaign."
Visit Omaha spends millions of dollars every year to attract out-of-town visitors to the city and they rely on local businesses to help promote Omaha as a premier meeting and leisure destination. As a member of Omaha's tourism community, the Omaha Children's Museum has access to valuable benefits to help promote their attraction, including a business listing on VisitOmaha.com.
In 2008, Visit Omaha added a brand new benefit for partners with the addition of paid digital content powered by Destination Travel Network.
"Visit Omaha is a valuable partner. We have the same goals, so it makes sense to work together," shares Kim. "We were already getting a high number of referrals to our website from VisitOmaha.com. I wanted to try the program to see just what kind of boost we'd get from additional visibility on the site."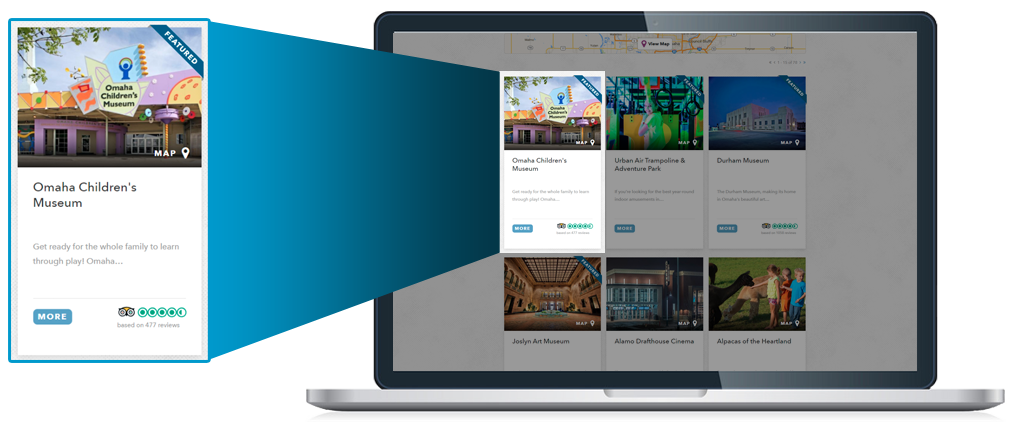 Choosing from the seven available placements was pretty easy for her. She wanted the attraction to be front and center for parents planning trips. So they chose a Header Image and a Featured Listing, both on the Attractions page. The Header Image is the largest visual on the webpage located right at the top to grab VisitOmaha.com visitors' attention immediately. Scroll down and you'll see the Omaha Children's Museum is lifted out of alphabetical order and at the top of all of the attractions listed so it's seen first with a "featured" tag.
"These digital placements have increased our visibility and name recognition for out-of-town visitors. VisitOmaha.com is the top referrer to our site outside of social media," she says.
All of Kim's hard work marketing the museum is paying off. The museum's Quick Facts sheet reports that since 2013, total attendance has increased every year. In 2017 they saw record breaking attendance with 324,078 visitors. We'd like to think the paid digital content on VisitOmaha.org had a little something to do with that since the Children's Museum of Omaha have been advertising through DTN on VisitOmaha.com since March 1, 2013.
 "I like digital advertising as you can narrow down your audience. I want to advertise to people considering a visit to Omaha. People who are browsing VisitOmaha.com are likely to be that type of audience," says Kim. "I'm happy with DTN. I would recommend this avenue to other businesses if there's room in the budget. Try it out for a limited amount of time and compare it to how your advertising numbers were before the ad."
The imaginative environment at Omaha Children's Museum reaches beyond home and school experiences, nurturing growth and development as young children and their adults explore the world together. Visitors to Omaha Children's Museum will discover educational programming through permanent, traveling and temporary exhibits, focus field trips, summer camps, workshops, overnights, presentations, and birthday parties for young visitors.
You can learn more by visiting the Omaha Children's Museum online, and follow the museum on Facebook, Twitter, Instagram and YouTube.