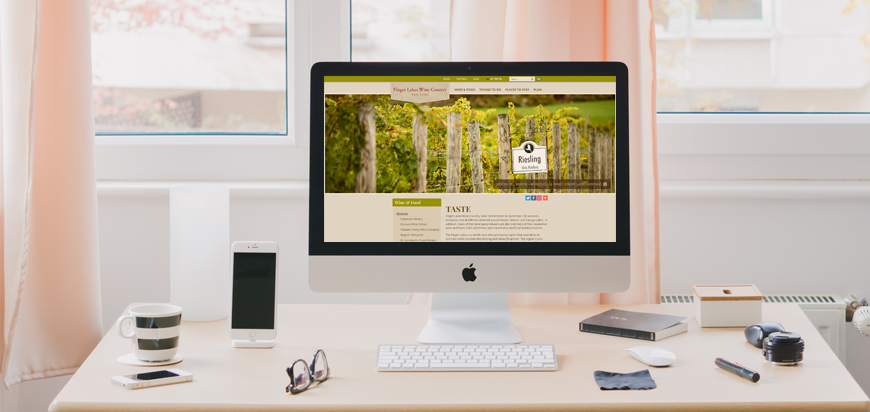 'Best Buy', 'Double Gold', 'Gold' and 'Silver'; these are just a few of the awards bestowed on Heron Hill Winery from the likes of Wine Enthusiast, New York Wine & Food Classic, Beverage Tasting Institute and Wine & Spirits. Not to mention the winery was named one of the ten most spectacular tasting rooms in the world by Travel + Leisure magazine, in a list that included Spain, Austria, Chile, France, Scotland, New Zealand and Argentina.  And it's located in the Finger Lakes, named the "Best Wine Region" by USA Today as determined by popular vote in 2018.
With so many awards and accolades, it's no wonder Heron Hill Winery is a popular tourist destination. From tastings to tours and weddings to events there's a lot going on here. Chelsea Guererri, Marketing and Business Administration Manager, is charged with making sure visitors find this award winning winery. She uses paid digital content on FingerLakesWineCountry.com to do just that.
Chelsea learned of the opportunity to get additional exposure for the winery on the official tourism website at a Finger Lakes Wine Country Tourism Marketing Association seminar. The winery is a partner with the tourism marketing association and she attended the event that shared the details of the program powered by Destination Travel Network (DTN).
"With the forever changing digital world, it's important that we keep up with how people look for information," explains Chelsea. "The Finger Lakes Wine Country website was one of our top referrals to our website, so it was almost a no-brainer to invest in web advertising to maximize our efforts."
She was put in touch with a representative from DTN who worked with her to evaluate the options, deciding what placements were best based off of what was most relevant to their current business strategies and top performing FingerLakesWineCountry.com pages. The pair chose a Run of Site Banner and an Events Header Image for the initial contract in 2017. Upon renewal in 2018, she kept the Run of Site Banner and switched things up to a Wineries Header Image.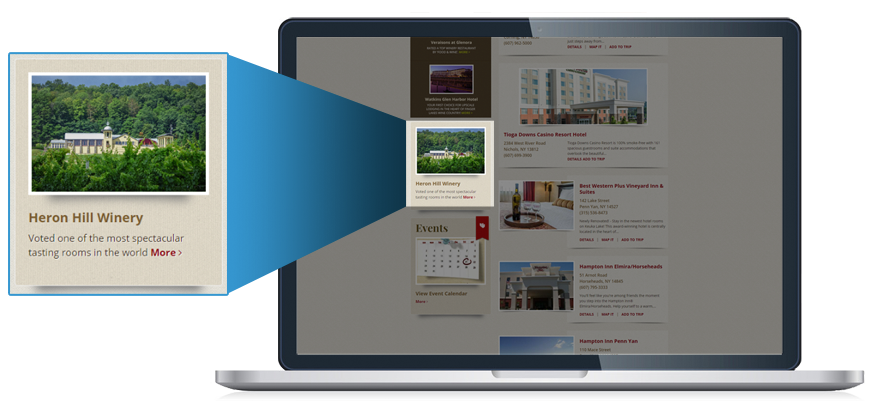 "This campaign plays a large role in our digital advertising efforts. We are a small business, so this is a 'bang for your buck' type of thing in my eyes," says Chelsea. "Our referral traffic from the Finger Lakes Wine Country website is three times more than any other website year-to-date, so we consider this advertising highly impactful for our business to drive traffic to our website to learn more about us, shop our online store, and visit our winery."
The Run of Site Banner places the winery on just about every page of the mobile friendly tourism website and includes an image with a headline and call to action body copy. The Wineries Header Image places Heron Hill at the top of the Wineries page. This spot offers premium branding with a large graphic and headline on the category specific page she knows her target customer is searching. Both placements click directly to Heron Hill Winery's website. In just six months, these placements have received 121,199 impressions and 1,477 referral clicks for an average (and impressive!) 1.22% click-through rate combined.
"The Finger Lakes Wine Country Tourism Marketing Associations' efforts are extremely targeted and they are one of the best when it comes to destination and tourism marketing. It's a pleasure to work with such a dynamic agency that truly cares about their partners and promoting the Finger Lakes Region to the right people," says Chelsea.
In fact, for other local businesses who want to get in front of customers who are looking to visit the Finger Lakes, Chelsea finds this program is something anyone can do easily and effortlessly. She recommends those considering this kind of program to review their current advertising and marketing strategy to see if it's working and if it's balanced.
"I have been satisfied working with DTN! They have helped me with ad placements that have in turn brought me positive results. This is currently the only digital ad program we are using since it fits in our budget but we are making room for other opportunities," she concludes.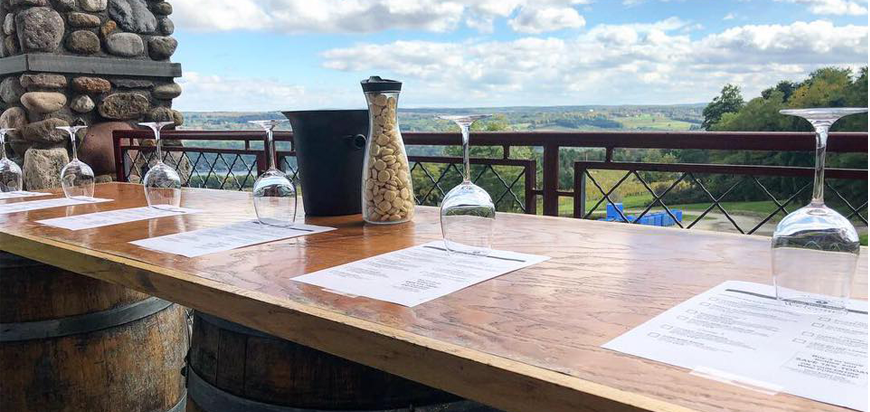 Heron Hill is among the leaders in recognizing Riesling as the region's flagship varietal. You can journey through the rolling hills and discover their full portfolio of wines. Tastings are offered at three tasting rooms. In addition to the magnificent vaulted tasting hall and winery overlooking vineyards on Keuka Lake, Heron Hill also has tasting rooms on the west side of Seneca Lake and on the west side Canandaigua Lake. You can learn more about Heron Hill Winery online, and on Facebook, Twitter, Instagram and YouTube.