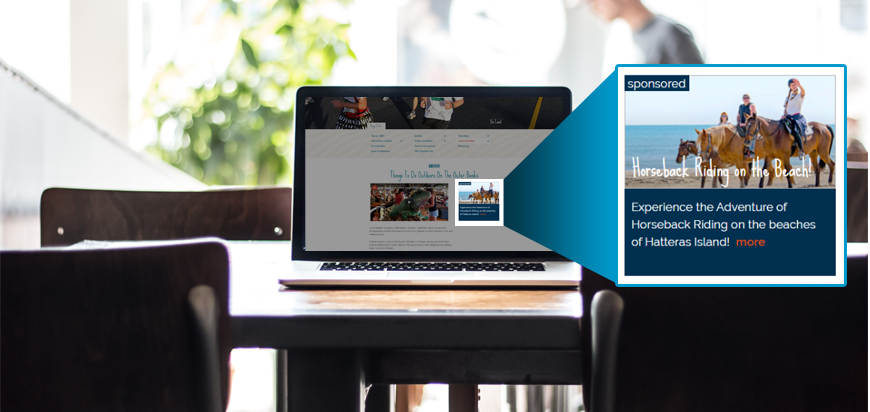 Sylvia Mattingly grew up on a horse. This accomplished horsewoman learned to ride at the ripe old age of three, she's barrel raced and even competed in English riding. The free spirited tom boy eventually went into the restaurant business and started a family. And in 2001 she opened Equine Adventures offering horseback riding on the beach—her dream job.
An equestrian and businesswoman she is; a technological marketer she is not. So when given the opportunity to participate in the paid digital content program on OuterBanks.org to promote Equine Adventures, she jumped in the ring.
Sylvia's barn is situated on eight acres of land tucked away down a gravel road in a private community approximately two miles from the beach. In fact, the beautiful trail to the beach from the property led her to the decision to open the tourist business, one that allows her to take care of her children while "staying at home".
Equine Adventures offers guided horseback tours through the North Carolina Coastal Reserve and parts of Hatteras Island that most visitors never get to experience. The Visit Outer Banks website introduces visitors to her adventures on horseback.
"I chose to work with Destination Travel Network and this platform because I liked the tourist bureau's website," says Sylvia. "I found the banners and advertisements they used to showcase the other businesses very appealing."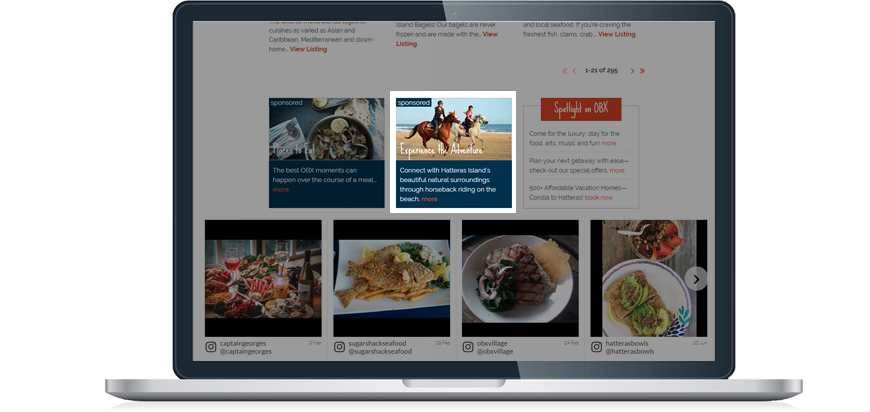 Sylvia began her paid digital content program on OuterBanks.org with a Land Activities Premium Page Sponsorship in April, 2017 and she added a Run of Site Banner the following year. The Premium Page Sponsor gives her targeted exposure on the page her customers will be searching. The Run of Site Banner puts Equine Adventures on nearly every page of the website so she can find riders who might not be looking for her in the first place.
And these placements are on the website for the Outer Banks Visitors Bureau—the lead marketing and promotional agency for The Outer Banks of North Carolina, serving their partners and thousands of visitors who stay here each year.
"I always love working with the Outer Banks Visitors Bureau. The folks there are amazing," she says. "DTN is great to work with and I feel like I get a lot for my advertising dollar."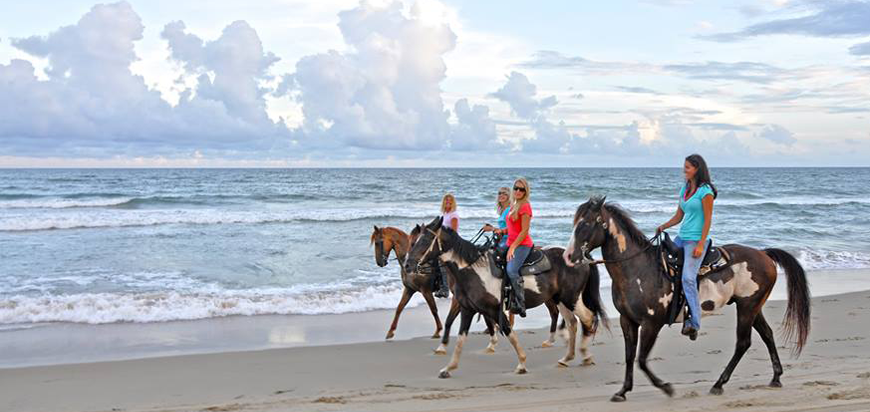 Horseback rides along the south end of Hatteras Island are a unique way to explore the habitat of the Carolina coast, and are available for riders over age 10. No experience is necessary, but experienced riders have fun too! Equine Adventures opens March 8 for the 2019 season. Find out more about the two hour guided trail rides offered twice daily on EquineAdventures.com.  Follow Equine Adventures on Facebook, Twitter, Pinterest and Instagram.