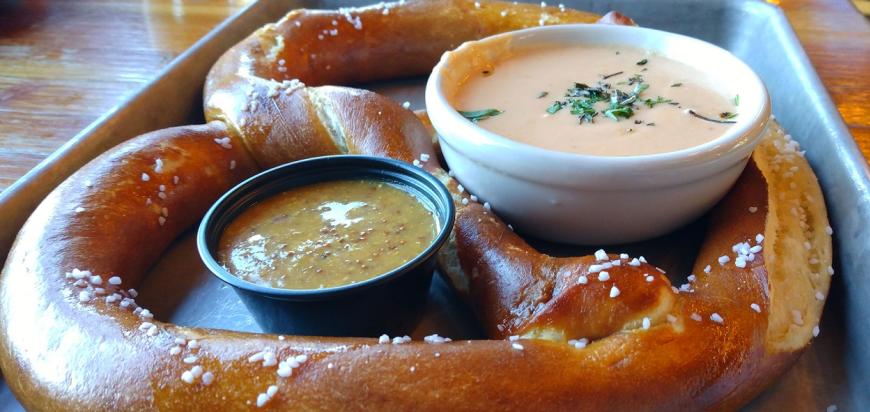 5 social listening tips to help find out what your customers love (or don't) about you.
Do you know what your customers like about your business? Or, maybe a better question: do you know what they don't like? "Of course," you might say, "I talk to my customers, y'know." Yeah, it's great that you're chatting with your customers when they're in your business. But what are they saying behind your back? To complete strangers? To visitors in your market and prospective customers?
The practice of "social listening" — rummaging through social media and customer review posts about your business to glean insight about what the customer is saying about you — is a quick and easy way to better understand your customer's sentiment via unsolicited, candid feedback about your product, your service, and whether or not they think visitors (who are absolutely reading these reviews) should give you a try. 
Social listening can reveal fantastic new insights about operational and marketing considerations you're already thinking about every day and produce real change that will help improve your business and benefit your bottom line. But where to start? 
Check out our five social listening tips to help find out what your customers love (or don't) about you and then spend a few minutes every day catching up on customer feedback posted across the web. Within a day or two, I'd wager you'll have uncovered new insights about the needs of your customers that will help improve your customer's experience and willingness to recommend.
1. Stop Talking For A Minute And Just Listen
First, let's get into some serious listening mode. This is an exercise in discovery. So we're just gathering information right now. For our purposes, I'm going to look at these as though I'm a visitor in my market: on my phone. And I'll start with a look at one of my favorite Central Oregon breweries, Sunriver Brewing.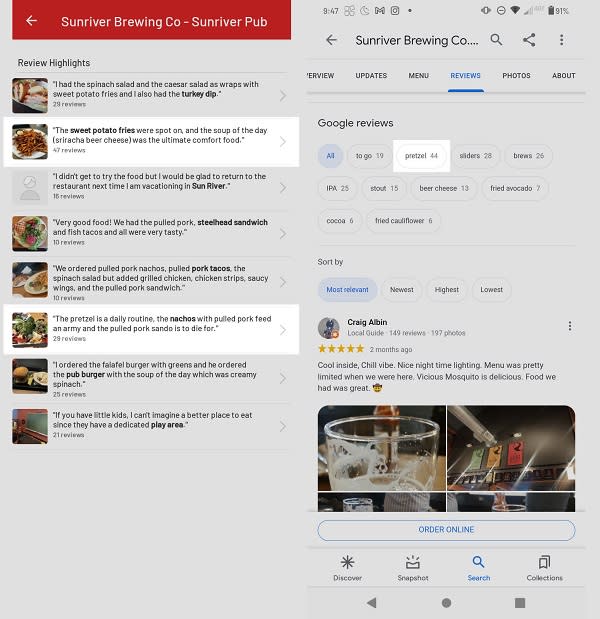 Initially, I'm looking for some high-level information about what customers are saying. Both Yelp! (on the left) and Google (right) summarize recurring keywords from reviewer feedback, making it easy to glean insights about what your customers like best about you. In this case, pretzels, nachos, and sweet potato fries float to the top as fan favorites with 120 mentions in reviews, collectively. The cheese and the mustard sauce that complement this calorie fest are made with beer from the brewery, making it a unique, buzz-worthy, you-gotta-try-it experience for customers.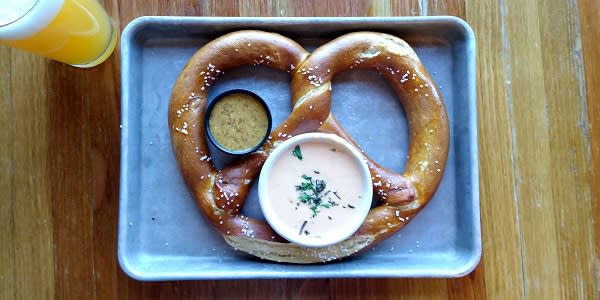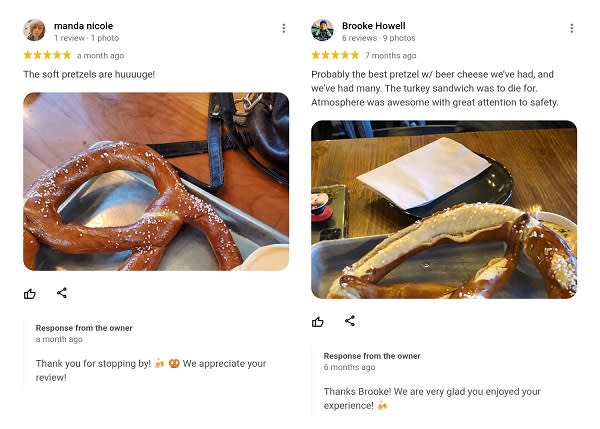 Then we can start to drill a bit deeper with a cursory run-through of the reviews on the main business page. Some of these are pretty dense, and I wouldn't concern myself too much about reading every single one entirely. (I doubt that's what visitors in the market are doing.) 
But read through the short versions of the posts and keep an eye out for common themes. Topics like customer service, quality of the product, wait time, cleanliness, and atmosphere are some of the usual suspects. Reviews for Dudley's Bookshop Cafe in downtown Bend, for example, consistently use great experiential adjectives like "quaint," "cozy," and "welcoming":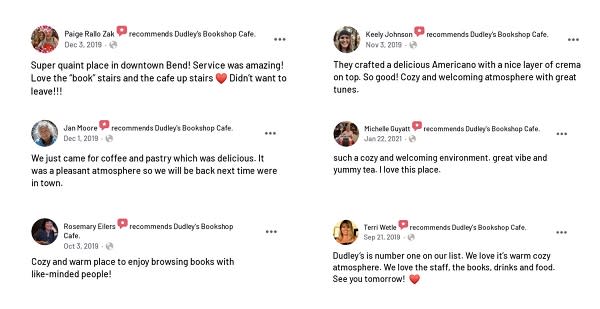 Dudley's has a library-esque upstairs room with large windows for lots of natural light and tons of couch space where customers can hang out for hours on end. In this situation, the customer is volunteering that, while the book selection, coffee, and (sometimes) prices are important, the relaxing store experience is a primary driver for return visits and recommendations. 
2. Exploit Your Strengths
Now that we know about a few things really important to these customers, we can infer that because they make existing customers happy, they're also likely very important to prospective customers, including visitors in the market. And the business can now look for ways to fold these insights into their operations and marketing strategies.
For example, if Sunriver Brewing is looking for a quick idea for a social media post that would get likes and shares, their delicious pretzel is a good candidate. In fact, judging from the reviews, photos of any of these appetizers would be great for high-performing social media fodder.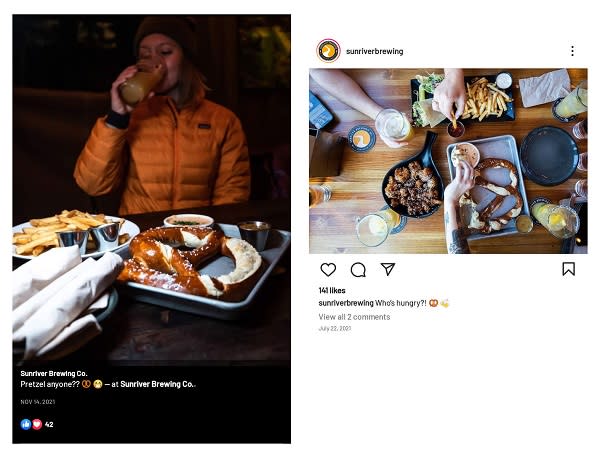 Likewise, it's clear that a part of what Dudley's delivers to its customers is a quiet, cozy, and friendly space. And we can guess that this is exactly how locals and visitors talk about Dudley's to one another in casual conversation. To this end, Dudley's should incorporate  (and has) language highlighting their quiet and comfy atmosphere in their listings across the internet, on the Visit Bend website, and in its marketing copy across the board to align the business with this customer need. 
3. Own the Negative
But what if customer reviews are not so glowing? In some ways, negative reviews are more valuable to you than any positive review because, for one, this is likely feedback that you're not getting from your customers in person. And second, while super positive reviews help affirm that you're doing everything well, negative reviews present an opportunity to improve, even in small ways, which can positively impact your bottom line.
Bellatazza Coffee, one of my favorite spots downtown, has rave customer reviews. And, when we take a closer look at these comments, we see some concerning remarks about quality and service.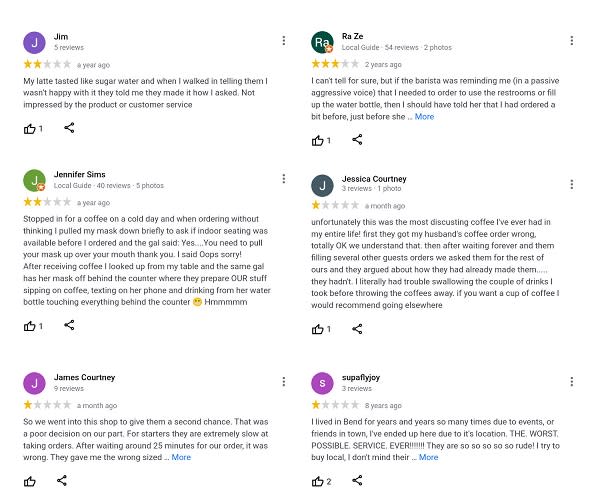 Admittedly, Bellatazza has many very positive reviews, and these appear to be the exception to the rule. But these customers are being very candid about their negative experiences, and it's logical to think that these are not isolated instances. With (at least) three other coffee shops within a few hundred feet of Bellatazza where the customer can go instead, this is an issue. 
It's super easy to write off negative reviews with a "well, you can't win 'em all" or "they're just not my customer" kind of mentality. Or to set these aside as small financial losses: "Oh great, I'm losing a whole $30 in revenue." But this is super short-sighted. The reality is these were your customers. And, not to put too fine a point on it, your team blew it. In fact, not only were these paying customers who would possibly have come back, but it was also an opportunity to have another fan who would willingly refer you to their friends. Instead, their candid comments in a public forum are likely hindering new business to some extent.
We need to recognize that there's possibly an issue here. And an opportunity for Bellatazza management to see these comments, investigate, and implement additional training to their team members to elevate the level of service and quality.
4. And Now Reply
The most unfortunate part of the Bellatazza example is that (for many of these reviews, anyway) nobody addressed the issue with the customer. The worst thing you can do with negative reviews is nothing. In contrast, both Sunriver Brewing and Dudley's have responded to negative remarks in positive and diplomatic ways to let the customer know that they've heard the concern and to help neutralize the situation.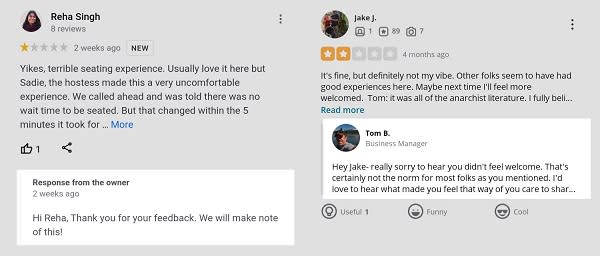 Respond to negative reviews and be gracious and sincere. This will go a long way in earning points back with not only the person who had the negative experience but with every person who reads the review. 
5. Engage With Your Fans
THIS is the easy part, reply to the positive reviews. These customers are likely to come back, and a special note will help encourage that return visit. We're not writing greeting cards here. A simple "thank you" and "I'm glad you liked it!" and "see you next time!" is totally fine.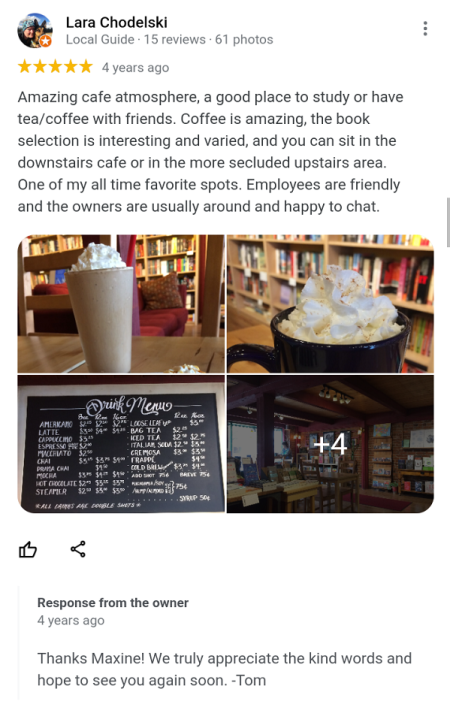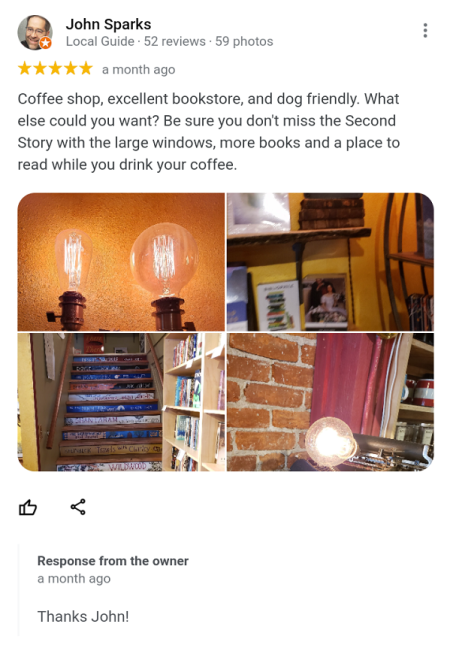 Remember that social listening is not about promotion. It's about coming to a better understanding of how people are talking about your business, to change the way that you operate and market your business to align more closely with the customer's needs, and to create more happy fans and more happy referrals. 
And it's easy to get in front of it! Just takes a few minutes a day.
Happy marketing!