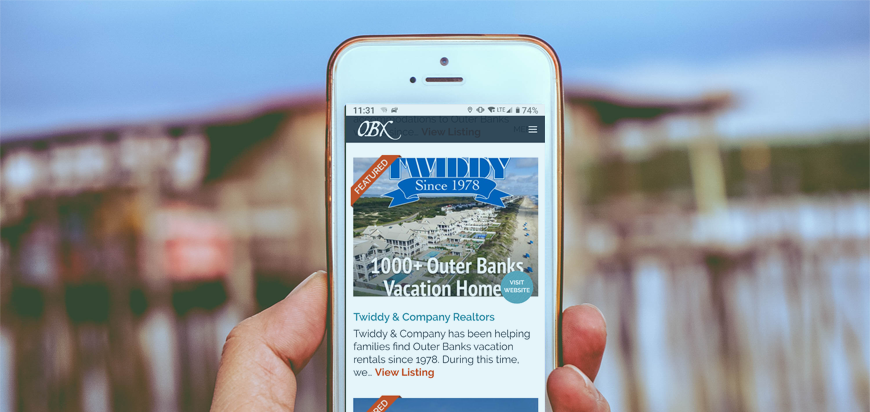 Pet friendly rentals… a home with an oceanfront view… private pools and hot tubs; whatever a visitor to the Outer Banks might need in a vacation home, Twiddy & Company offers from its two brick and mortar locations. While a lot of their business comes from repeat visitors, the professionals at this long-standing vacation rental company use digital advertising to reach new customers—including paid digital content on OuterBanks.org.
We spoke with Courtney Wisecarver to find out why this more than 40 year old company turns to the Outer Banks Visitors Bureau for help promoting vacation rentals on America's First Beach.
"The Outer Banks Visitors Bureau is a great resource for vacationers planning to visit our area. Their new site is constantly updated with fresh content, including professionally-produced videos highlighting our area," says Courtney.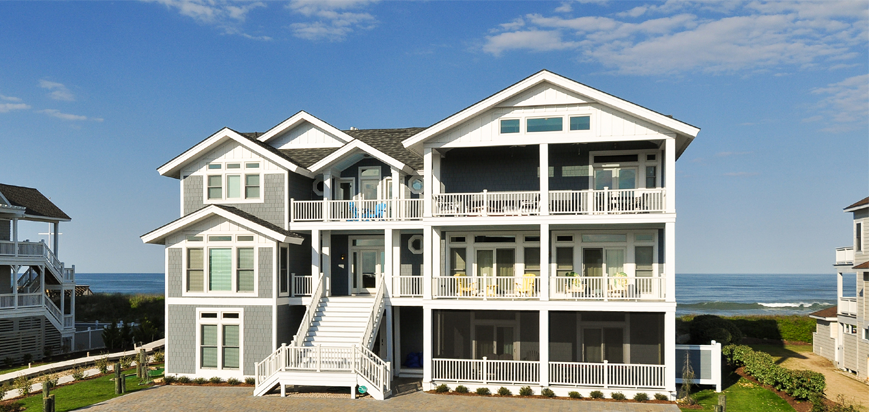 Locally owned and operated Twiddy & Company offers more than 1,000 Outer Banks vacation rentals located from South Nags Head to Carova. Their full-time staff of 150 that grows to more than 300 in season all live and work in the community. Twiddy & Company's team strives to not only provide a great place to stay, but to help create lasting memories for those who visit their shores. So to partner with the Visit Outer Banks Visitors Bureau was the perfect complement to their overall marketing strategy.
"At Twiddy & Company, we use several digital advertising programs to achieve our overall marketing goal," explains Courtney. "Outerbanks.org provides a great user experience with excellent content that is attractive and of value to the guest that is planning their Outer Banks vacation, and the website is mobile friendly."
The established rental company took their relationship with the visitors bureau to the next level after speaking to DTN Senior Account Executive Meredith Sasser in the fall of 2017. Today they use a Featured Listing to lift Twiddy & Company out of alpha order on the OuterBanks.org website and to the top of the Vacation Rentals page listings so they're found faster. And the 'featured tab' draws the eye to the listing for extra exposure. In the last six months, this placement has received 209,919 impressions and 2,747 direct referral clicks for an impressive 1.31% average click-through rate.
Twiddy & Company uses a variety of digital advertising avenues to reach new customers and many are performing well. Yet she says the campaign on OuterBanks.org is one of the top-performing digital advertising programs that they use. When it came to choosing the placement on OuterBanks.org, the decision was not made lightly and analytics reporting helped them make the right choice.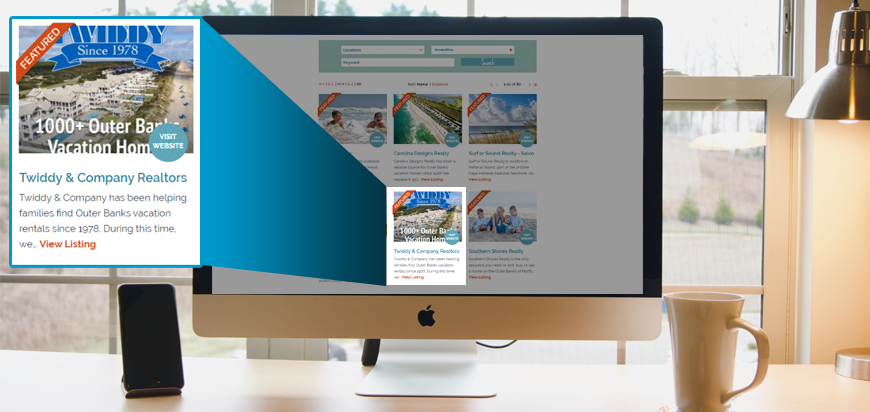 "Our regular listing on the Vacation Rentals page had already resulted in revenue, so we knew that appearing as a Featured Listing would be an even better position for us," she says. "We were impressed with the analytics for the Featured Listings on the Vacation Rentals page."
Ask just about every successful business how they decide where to spend their marketing dollars, and they'll say on campaigns with a positive return on investment. The same is true of Twiddy & Company. For Courtney, the partnership works and the digital campaign continues to drive referrals to their website.
"We would definitely recommend this program to other businesses. The Featured Listings CTR is impressive, and Destination Travel is extremely easy to work with. We have asked super specific technical questions in addition to normal advertising questions and each response has been professional, thorough, and friendly," she concludes.
As the OuterBanks.org website points out, the countdown to summer 2019 is underway! You can visit this website to discover all the reasons to visit the Outer Banks. And when you're ready to choose the perfect place to stay, consider Twiddy & Company.
In 2018, Twiddy & Company celebrated 40 years of providing Southern hospitality on the Outer Banks. You can learn more about Twiddy & Company and their commitment to hospitality on Twiddy.com and on their Outer Banks Blog, providing an excellent overview of the company and its culture. You can also follow Twiddy & Company on Facebook, Twitter, Pinterest and YouTube.