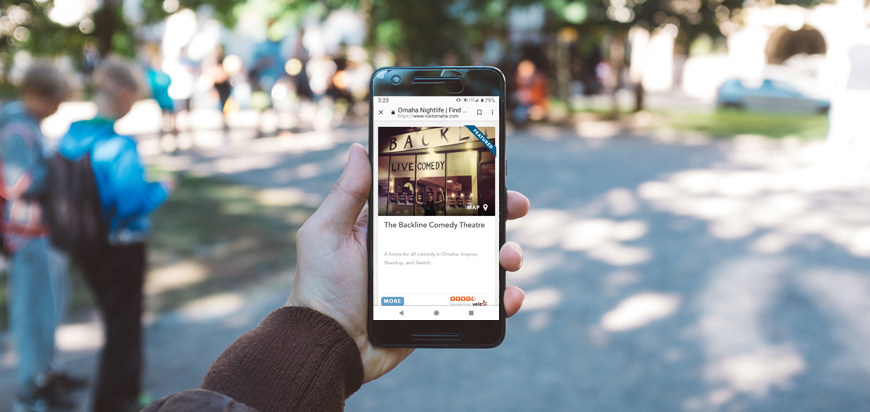 I kid, I kid… it takes smarts to be a comedian, and running a business is no joke. The Backline Comedy Theatre in Omaha, Nebraska, opened the 'home for comedy in Omaha' in 2011, moving downtown in 2013. Visitors and locals alike have been enjoying live stand-up, improv, and comedy sketch shows, (even learning the craft here), ever since.
While Omaha might not be where you'd except to find an improv shop, Founder and Co-Owner Dylan Rohde discovered digital content on VisitOmaha.com an effective way to spread the word.
"If you have events visitors want to see, this website and the additional exposure is very helpful to get people to the shows." ~ Dylan Rohde
"Destination Travel Network reached out to me in 2017," says Dylan. "Advertising on VisitOmaha.com made sense to me to reach people who are visiting Omaha. Most who come here aren't expecting to find an improv theater."
His instincts were correct. The Backline Comedy Theatre digital campaign is performing. The placements over the last 13 months averaged 181,958 impressions and 2,900 clicks to their website for a 1.54% click-through rate. Considering the Google Display Network averages .3% to.5%, you can say this performance deserves a standing ovation!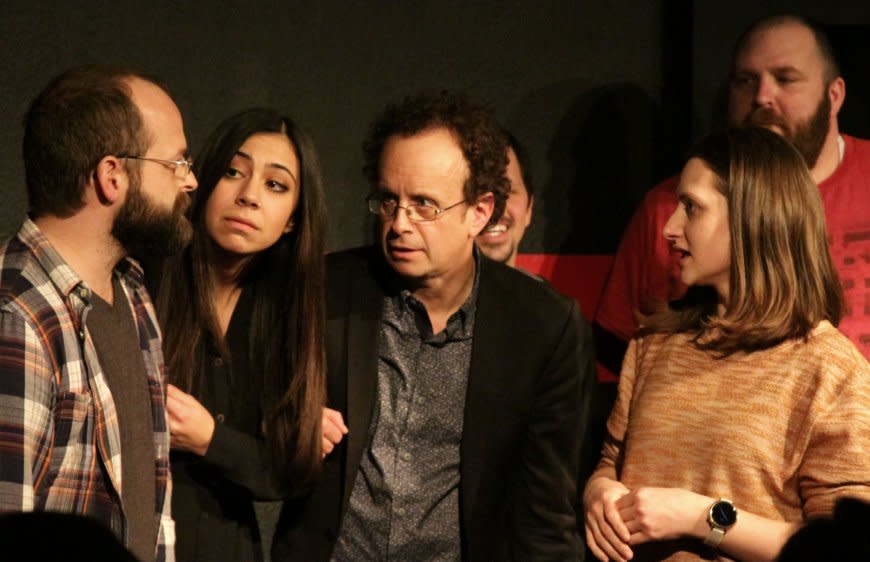 You can find the comedy theatre at the top of the Visit Omaha Nightlife page with a Featured Listing, and on just about every other page of this popular planning website with a Spotlight Text Link. The Featured Listing takes the business out of alpha order and puts them at the top so they are seen first and includes a 'featured' banner. The Spotlight Text Link gives Dylan the opportunity to highlight offers that he can easily update, as well as a photo and link to his website.
These digital placements are supplemented by social media accounts, a print advertisement in Omaha magazine and posters hung around town.
"Destination Travel Network has been easy to work with, which I appreciate. The digital content program they manage that is offered by Visit Omaha works pretty good for us," says Dylan.
Dylan also takes advantage of the opportunity to post Events to VisitOmaha.com. You'll find "Comedy in Omaha at The Backline" listed in the calendar of events every month. Friday nights are popular with The Arena at 9:00 p.m. and Interrogated at 10:00 p.m. CST. The Arena is Omaha's number one improve competition pitting together two improv teams, and Interrogated is a fast-paced, adult-friendly improv show where  the audience confesses stories from a time they got away with something. Then Backline's finest improvisers create scenes based off those stories.
According to Dyan, VisitOmaha.com is the perfect website for his business, or any other venues like his.
"If you have events visitors want to see, this website and the additional exposure is very helpful to get people to the shows," he concludes.
If you're ever in Omaha and are looking for a laugh, stop by The Backline, you'll find the theatre downtown at  1618 Harney St, hosting a variety of local comedians and groups, plus some traveling shows. And if you want to join in on the action, The Backline offers improv classes to teach you the skills and techniques you see on stage.